Listen To New STEEL PANTHER Song 'Gods Of P**sy'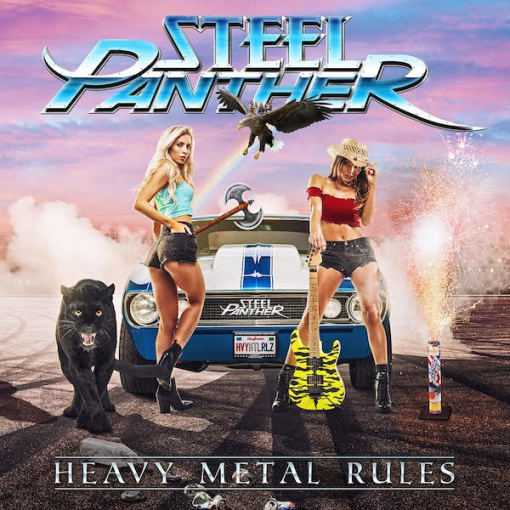 "Gods Of Pussy", a new song from California glam metal jokesters STEEL PANTHER, can be streamed below. The track is taken from the band's fifth studio album, "Heavy Metal Rules", which will be released on September 27.

The disc, which is described in a press release as a "heavy metal version of a self-help manual and ultimate party album combined," was once again produced by Jay Ruston, who collaborated with the band on all of its previous recordings, including its latest LP, 2017's "Lower The Bar".

Lyrically, "Gods Of Pussy" is a life manifesto as only vocalist Michael Starr, guitarist Satchel, bassist Lexxi Foxx and drummer Stix Zadinia can unleash upon the world.

STEEL PANTHER explains: "KISS wrote 'God Of Thunder', DEF LEPPARD wrote 'Gods Of War' and we wanted to get in to the 'God' business too. This is an autobiographical description of a day in the life of STEEL PANTHER. So, when you're feeling a little unsexy and you need to get your mojo flowing and turn up the heat, play this song at 10 and you too can become a God of Pussy."

From the opening track "Zebraman" (which is audio taken from the classic film "Heavy Metal Parking Lot") to the emotional album closer "I Ain't Buying What You're Selling", STEEL PANTHER has created 36 minutes of audio eargasms. Songs like "Let's Get High Tonight", "Fuck Everybody" and "Gods Of Pussy" are destined to become natural additions to the band's setlist. "I'm Not Your Bitch" is an anthem for all acknowledged genders and sexual orientations worldwide.

"Heavy Metal Rules" track listing:

01. Zebraman
02. All I Wanna Do Is Fuck (Myself Tonight)
03. Let's Get High Tonight
04. Always Gonna Be A Ho
05. I'm Not Your Bitch
06. Fuck Everybody
07. Heavy Metal Rules
08. Sneaky Little Bitch
09. Gods Of Pussy
10. I Ain't Buying What You're Selling

STEEL PANTHER will celebrate the release of "Heavy Metal Rules" with a concert at the Whisky A Go Go in West Hollywood, California on September 26.

Starr recently stated about STEEL PANTHER's new LP: "You are gonna love this new group of songs. We have worked extremely hard and it's paid off. Be prepared to have your nuts fucking rocked off. Ladies, get a towel, 'cause your tits are gonna explode and it's gonna get messy. The future is bright!"

Zadinia said that he was more excited about STEEL PANTHER's upcoming album than he has ever been about any of the group's previous releases. "The riffs are fucking gnarly, dude — gnarly," he said.

STEEL PANTHER specializes in imitating and exaggerating the less flattering aspects of 1980s hair metal, with unrepentantly crude, non-PC sexual content as a favorite lyrical theme.

The group's music has been described as "VAN HALEN meets M?TLEY CR?E meets RATT meets 'Wayne's World', complete with operatic shrieks, misogyny, shredding guitar solos and libidinal overdrive."

Eleven years ago, STEEL PANTHER changed its name from METAL SKOOL to its current moniker and shifted the focus of its act from '80s metal covers to originals.

Photo by David Jackson

.
Зачитано 20.
Добавил Aleks 6.09.2019//=date('j',$res['date'])?>//=$monthArray[date('m',$res['date'])]?>//=date('Y',$res['date'])?>
Комментировать.