Listen To New THE WHO Song 'I Don't Wanna Get Wise'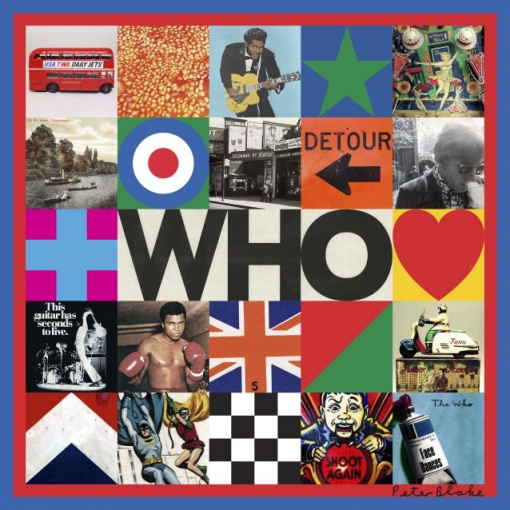 "I Don't Wanna Get Wise", a brand new song from THE WHO, can be streamed below. The track is taken from the band's first album in 13 years, titled "Who", which due for release on December 6 (pushed back from the previously announced November 22).

THE WHO has one of the greatest rock legacies in music history — they're one of the all-time great live bands, have sold over 100 million records worldwide and scored nine U.S. and 10 U.K .top ten albums and 14 U.K. top 10 singles in a career spanning six decades.

The songs on "Who" cover a myriad of subjects, including the Grenfell Tower fire, musical theft, spirituality, reincarnation, the power of memory and "an old rock star that has lost his marbles." Singer Roger Daltrey rates it amongst their strongest.

"I think we've made our best album since 'Quadrophenia' in 1973," he said. "Pete [Townshend, guitar] hasn't lost it — he's still a fabulous songwriter, and he's still got that cutting edge."

Added Townshend: "This album is almost all new songs written last year, with just two exceptions. There is no theme, no concept, no story, just a set of songs that I (and my brother Simon) wrote to give Roger Daltrey some inspiration, challenges and scope for his newly revived singing voice.

"Roger and I are both old men now, by any measure, so I've tried to stay away from romance, but also from nostalgia, if I can. I didn't want to make anyone feel uncomfortable. Memories are okay, and some of the songs refer to the explosive state of things today.

"I made new home studio demos of all these songs in the summer of 2018 using a wide collection of instruments old and new. We started recording as THE WHO in March 2019, and have finished now in late August just in time to make some vinyl — maybe even some cassettes — ready for release in November."

Two songs on the record — the epic "Ball And Chain" and string-laden "Hero Ground Zero" — recently got their world premiere when the band played with a 40-piece orchestra to a packed Wembley Stadium. Spring 2020 will see the band embarking on a U.K. tour featuring an orchestra.

"Who" track listing:

01. All This Music Must Fade
02. Ball And Chain
03. I Don't Wanna Get Wise
04. Detour
05. Beads On One String
06. Hero Ground Zero
07. Street Song
08. I'll Be Back
09. Break The News
10. Rockin' In Rage
11. She Rocked My World

Photo credit: Rick Guest / courtesy of NEC Group


.
Зачитано 25.
Добавил Aleks 22.11.2019//=date('j',$res['date'])?>//=$monthArray[date('m',$res['date'])]?>//=date('Y',$res['date'])?>
Комментировать.
Песни:

Скачать mp3 группы THE WHO (A Man In A Purple Dress, Anyway, Anyhow, Anywhere, Behind Blue Eyes, Endless Wire, Getting in Tune, Heart To Hang Onto, I Can't Explain, I'm One, Let's See Action, Magic Bus, Mary Anne With The Shaky Hand, Mike Post Theme, My Generation, My Wife, Pinball Wizard, So Sad About Us, Sound Round, Substitute, Tea And Theatre, Who Are You, You Better You Bet)

Советуем:

AC/DC, THE BEATLES, BOWIE, David, DEEP PURPLE, DEF LEPPARD, DEPECHE MODE, Guns N' Roses, Iggy and the Stooges, KANSAS, LED ZEPPELIN, Megadeth, MetallicA, MOBY, MOTLEY CRUE, Nirvana, PINK FLOYD, PIXIES, Queen, Sex Pistols, SKID ROW, Smokie, The Doors, The RACONTEURS, THE ROLLING STONES, Thin Lizzy, WHITESNAKE, Wolfmother