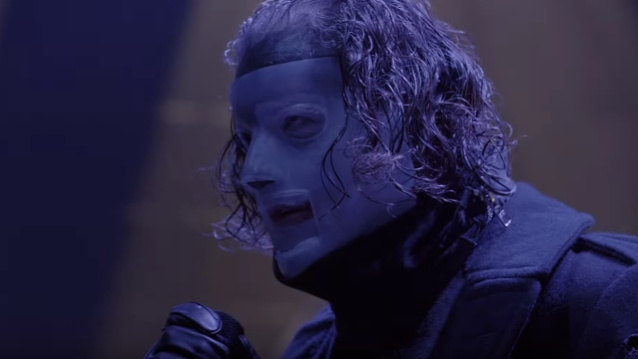 "Solway Firth", новое видео группы SLIPKNOT, доступно для просмотра ниже. Эта песня взята из альбома "We Are Not Your Kind", выходящего 9 августа на Roadrunner Records. Трек-лист: 01.

Insert Coin
02. Unsainted
03. Birth Of The Cruel
04. Death Because Of Death
05. Nero Forte
06. Critical Darling
07. Liar's Funeral
08. Red Flag
09. What's Next
10. Spiders
11. Orphan
12. My Pain
13. Not Long For This World
14. Solway Firth
#Slipknot #Metal #_Metal #AlternativeMetal #Alternative_Metal #NuMetal #Nu_Metal.
Зачитано 43.
Добавил Aleks 22.07.2019//=date('j',$res['date'])?>//=$monthArray[date('m',$res['date'])]?>//=date('Y',$res['date'])?>
Комментировать.
Ссылки:

: Сборник подборов аккордов к песням под гитару!!!
URL - http://akkordbard.ru/, Страна - Россия
: В наше время на многие машины реально найти автозапчасти в интернет-магазинах
URL - http://https://turbinext.prom.ua/, Страна - Беларусь
: I am Wendell.i am marketer.i am mdoing with ARKM Commercial Finance.
URL - http://https://www.arkmcommercialfinance.com/, Страна - Беларусь

Слушают:

#####, #JoKer, <MANSON>, *Heaven Will Find You*, 0cel0tREVOlver, 4ева, 666666Белка666666, =Чёрная Вдова=, a510, abduraxim58, Absenth, AbyssMan, Alex@r, Alexandr Gray, Alienslipknot, AlterCasper, Amatory96, AMINAZINE, anarhyst, Andreirocrul, AnnaSky, Arhangel-135, Barkezd, Bassis, Belamor, belvodka, Benzin, Big_brazer, Black Horror(Arstrike), butterfly, Casper_2la, Catastrophe, cheshiretomcat, chikago, Corey Taylor, Danilka08, Dark Elf, DarkAngel, Darkes, Darkgirl, Ddevil, Dead&Broken, DeadPunk, Dedeyev, Demonenok, Demonn_13, Doc, DroB666, drsatan66666, dulya, DZblN, eba1_1154, EJIK, elina_666, Enemia, Essence, evgenkenaya, Eyeless, Fighter, Filimonow.vania, Firiam_D, FrauKruspe, Freedomfighter, Frensis, Fuzz tone, Gang, garrik, GFTM, Gitarist500, Gloo, God fox, gosha, GrblZLi, Hellyeah, Herbst, HimRa, holland, Igor Punk, IMMO, IMN, Infernal, I_Am_Maggot, jamesscreen, JDleSS, Joey Jordison, John_Prison, Jule, Ju_Coffee, Kain, Kankuro, karolize, kli, KOT MEGGOT, Lare, LARKA, Lelik Батькович, len4ik, Lenora, Leysan, LINKIN PARK, Lirusa, Lizaveta Lindemann, Logan, Mad Wolf, MallиNa, masha_0810, Max3553, mayhem317, MeDvEd, MegaLukian, MeLoM@N, Met, Metalkid \m/, Metalyara, Metal_girl, MIHA, Mikki, Miyavi, MNiMA_Я, Mr*M@D, Nester Nikiforov, New GOD, Nikey, Nostradamus, Obscurus, one_rock, otto, pahan, pankota, Perezz, Pikaso, Polina170900, Punk666, Pure, Pushkin, PZG, Qualls, R.I.N.D, RabbitRoger, RammFan, RammLady, Riffroad, Rock never die., Rock-man, ROCKandMETAL, Rocki, RockLady, Rocky Zo, Rocky=Roma, rocster, Rostok, RuLLeT02, saduhik, Satan666:@, Scarlett Drabber, Schizo0, Seal Team 6, Semmy, Serega133mhz, shanon, Sli548, Sliiipknot, SliPKnoT, SlipKnoti4ka, socramento, Sprotte, Stasy_Ramm, Stoller, sveni, systemLINCOLN, TaNk, Terry17, Tet, Thanatos, The Soul Of Darkness, The Terminator, Theo, Tier'ka, Timoff, TiTBiT, Tobianrieper, ToxaGuitar, TRPDeimon, T_ReKccc, U S A, ugaguga, Vampir666, Vanya, Vanyok, Vendy=), Victorius, viktor-174, Viktoriya, vinsant15, Vodylupe, Volk_sniper, voodoo, WarN, Wunder, XaReK650, Xlll_Anocmoji, yager13, YaNoT, Yrsula, Yuliana•Rock, Zloy_KraB, ZooL, Алекс966, Алиса, Ван, ВасилинаLP Bennington, Викусик, Владиславча, Водитель пылесоса, Гепард, Гивми ап, Диман Taylor, Динамит, Жоржик, КаПа, Катань, Кот в Шляпе, Ленивец, Летальный Исход., максимилиан, Марла Аста, Марь Иванна, Мелкий, МУТАНТ, Муха_Цокотуха, Пофигистка, Путник, Сrazy lioness, серы, Тимур Аутлев, Хеля, [SILVER], ~Sweet Prince~
Советуем:

SYSTEM OF A DOWN, MetallicA, KORN, Rammstein, Nirvana, Король и Шут, Ария, Linkin Park, Amatory, КИНО, Bullet For My Valentine, Disturbed, Marilyn Manson, Lumen, NIGHTWISH, Children of Bodom, LIMP BIZKIT, STONE SOUR, PAPA ROACH, Evanescence, Green Day, APOCALYPTICA, AC/DC, HIM, Сплин, Cradle Of Filth, Static-X, The Offspring, IN FLAMES, Red Hot Chili Peppers, Slayer, GODSMACK, Iron Maiden, Scorpions, ZOMBIE, Rob, СЛОТ, Mudvayne, Stigmata, ДДТ, КИПЕЛОВ, Kiss, NICKELBACK, SUM 41, Arch Enemy, Cannibal Corpse, Oomph!, PLACEBO, Behemoth, GUANO APES, Jane Air, Osbourne, Ozzy, The RASMUS, Three Days Grace, АЛИСА, Black Sabbath, Blink 182, Dimmu Borgir, Drowning pool, MUSE, P.O.D., Sepultura, Soulfly, Tankian, Serj, Сектор газа, Blur, Dark Tranquillity, DEEP PURPLE, Dope, LED ZEPPELIN, OOMPH, SATYRICON, THE BEATLES, Tracktor Bowling, АГАТА КРИСТИ, БИ-2, Наутилус Помпилиус, ПИЛОТ, ПСИХЕЯ, Эпидемия, ANIMAL ДЖАZ, AVRIL, Catharsis, Deathstars, DEPECHE MODE, FEAR FACTORY, ILL NINO, LACRIMOSA, Megadeth, My Chemical Romance, Pain, Queen, Scars On Broadway, Suicide Silence, TRIVIUM, ПУРГЕН, ЧЕРНЫЙ КОФЕ, 5diez, As I Lay Dying, Deftones, DRAGONFORCE, Guns N' Roses, Kittie, LAMB OF GOD, LORDI, MOTORHEAD, SEETHER, Sex Pistols, The 69 Eyes, THE PRODIGY, Гражданская оборона, КРЕМАТОРИЙ, Ленинград, ЛЯПИС ТРУБЕЦКОЙ, ТАРАКАНЫ!, 7000$, Akado, Biohazard, Bloodhound Gang, Dead By Sunrise, DISTEMPER, Emigrate, Gorillaz, LACUNA COIL, MALMSTEEN, Yngwie, Megaherz, RAGE, Rage Against The Machine, Soilwork, The MARS VOLTA, The Ramones, The RED HOT CHILI PEPPERS, THE ROLLING STONES, U.D.O., WITHIN TEMPTATION, ДЕЛЬФИН, Кукрыниксы, НАИВ, Оригами, ПИКНИК, ТТ-34, ЧАЙФ, ЭЛИЗИУМ, Accept, Amon Amarth, Anthrax, ARCTIC MONKEYS, Blind Guardian, BON JOVI, Deform, EUROPE, FALL OUT BOY, FOO FIGHTERS, I.F.K., Judas Priest, Killswitch Engage, Machine Head, Manowar, N.R.M., PANTERA, PINK FLOYD, Prodigy, Queens Of The Stone Age, rashamba, Slash, Tenacious D, The Doors, TOKIO HOTEL, TOOL, Turunen, Tarja, Vai, Steve, ЗВЕРИ, КИРПИЧИ, КОРРОЗИЯ МЕТАЛЛА, ЛЮМЕН, МАШИНА ВРЕМЕНИ, МЕЛЬНИЦА, НОГУ СВЕЛО!, Стая, ТОРБА НА КРУЧЕ, 30 Seconds to Mars, 5'NIZZA, 7раса, 9 район, Aerosmith, Alice Cooper, Atrocity, B.B. KING & ERIC CLAPTON, BERRY, Chuck, Beseech, BRIDES Of DESTRUCTION, BUTTERFLY TEMPLE, Clawfinger, COLDPLAY, Dark Funeral, Darkthrone, Demon Hunter, DEVILDRIVER, Dio, DORO, Dream Theater, EISBRECHER, Ektomorf, Eths, FINGER ELEVEN, Flyleaf, Forgive-me-Not, Gothminister, Grave Digger, Hellyeah, Hendrix, Jimi, HOOBASTANK, IDOL, Billy, IN EXTREMO, IRON SAVIOR, KAMELOT, Korea, LEGRAND, Benjamin, Lennon, John, Lostprophets, Love Story, Machinae Supremacy, Mastodon, Maximum the Hormone, MOBY, MOONSPELL, Mushroomhead, Napalm Death, NEGATIVE, Oasis, PRESLEY, Elvis, Protest The Hero, RADIOHEAD, Rasta, Roxette, ROYAL HUNT, Sadist, Silent Murder, SKID ROW, SOFT CELL, SOiL, SPARKS, STING, The Devin TOWNSEND BAND, The Killers, Theatre Of Tragedy, Therion, TRAVIS, Twisted Sister, Vader, Van Halen, VENOM, Welch, Brian, WHITESNAKE, АКВАРИУМ, АЛЬФА, Башлачев, Александр, БОРЗОВ, Нaйк, ВЫСОЦКИЙ, Владимир, Вячеслав БУТУСОВ и музыканты группы "КИНО", Земфира, КАЛИНОВ МОСТ, КАРНАВАЛ и Александр БАРЫКИН, КОМА, КРУИЗ, ЛИНДА, МАРГУЛИС, Евгений, Мастер, МЕГАПОЛИС, Ногу Свело, НОЛЬ, ПРЕСНЯКОВ(мл), Владимир, ПРИКЛЮЧЕНИЯ ЭЛЕКТРОНИКОВ, Рондо, СЕДЬМАЯ РАСА, СУКАЧЕВ, Гарик, ТЕЛЕВИЗОР, ТОЛ, Шнуров, Сергей, ЭпикриЗ, ЯНКА