Watch Pro-Shot Video Of METALLICA Performing 'Spit Out The Bone' In Santiago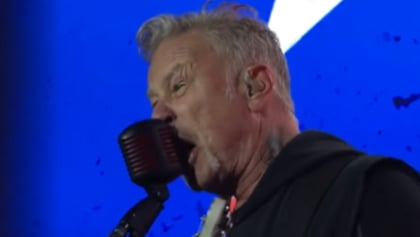 Professionally filmed video of METALLICA performing the song "Spit Out The Bone" during its headlining concert last Wednesday night (April 27) at Santiago, Chile's Club H?pico venue, which is the country's oldest racetrack with a capacity of 65,000, can be seen below.

The band's setlist was as follo.
Зачитано 21.
Добавил Aleks 2.05.2022//=date('j',$res['date'])?>//=$monthArray[date('m',$res['date'])]?>//=date('Y',$res['date'])?>
Комментировать.
Ссылки:

: Сборник подборов аккордов к песням под гитару!!!
URL - http://akkordbard.ru/, Страна - Россия
: В наше время на многие машины реально найти автозапчасти в интернет-магазинах
URL - http://https://turbinext.prom.ua/, Страна - Беларусь
: I am Wendell.i am marketer.i am mdoing with ARKM Commercial Finance.
URL - http://https://www.arkmcommercialfinance.com/, Страна - Беларусь
: JAVA Assignment help provides high-quality Programming Assignment Help & Java Homework Help to secure A+ Grade. Get instant Java Assignment Help Now!
URL - http://https://www.javaassignmenthelp.com/, Страна - Беларусь
: [url=https://www.brandburp.com/ppc-services]ppc services[/url] | [url=https://www.brandburp.com/digital- marketing-services]online marketing companies[/url]
URL - http://https://www.brandburp.com/international-seo-services, Страна - Беларусь
: Brisk Panda is home to the biggest & most definitive collection of stories in the world of Finance, Technology, Digital marketing, Entertainment, Travel, Health & Lifestyle!
URL - http://https://briskpanda.com/, Страна - Беларусь
: Lufthansa seat selection is one of the most popular of these salutary features. A tight grasp on this seating policy can insure trippers a perfect trip.
URL - http://https://bit.ly/3pcFZJx, Страна - Беларусь

Слушают:

<Eight>, <Set>, -Victor-, ...:::D:::E:::N:::..., 666666Белка666666, 8reADfan, a510, Abola, AgentSemit, alan291, Alcohollica, Aleks, Alex RR3, Alex@rocker!, Alexandre, Anarchy 221293, Andre |__|, Andreirocrul, andrey2778, Andropus, Anwe, aria, Arliss, Arny, artem93, Artem_83, AshtrayGirl, Assakra, AXL, azaZel, b1uesman, babyshka, Bantik, barzuar, Bel' Free, Belladonna, BenderBrau, Black Jack, Blood1976, Boris, Bratina, butterfly, Casper_2la, CHAOS, Charon, Chernaya, ChioAK, chip_ya, chupakabra, CocaBeaR, Corey Taylor, D'Ark, D'Averk, Daniel Bullet, danila, Darkfox, DarkSider317, DarkSteel, deadamir, deadrafter666, Deimos4, Demonica, Denozavr, Devilhead, Diapas.on., Die, Dima Diamond, Diman58894, Dinaed, DIONIS, Dobrev, Dogmat, dontfaq, DREGAZUL, DroB666, Drugban25, Dude, dulya, Dymixer, DZblN, eba1_1154, edi.tyt, edmiha, Eiram, Ekilla2, Elen, ELLEN, Enemia, escape, EVGEN67, Evil, EyreNemo, fabor, Fallen_angel, fanofacdc, Fess, Fobos, Fomochkin, Forvard, Foton000, funbeer, GAZOSTRUJ, Givip, GLEB, Gloo, Goker, GotGirl, grave81, guitarrockman, Hanny_Chisel, Hard Rocker, Hard_Metall, Harley, hatifnatt, Heavy 6@6k@, HellOn6, Hellsing, HevyMetallPig, HimRa, HippyEbuchii, HmW, Holy_Hammer, Igor Punk, IIIAMAH, IMMO, intelsash, Ivoree, I_L_Y_A, jamesscreen, Janibek_Sadyk, JDleSS, Jers, Jule, K1rk, K@tenk@, Ka80, Kadarsis, Kain, Kalter, Kankuro, KARABAN, karolize, kashchey, Keburo, Kirk Hammet, kirshenkov, l11nad, Lady Evil, Lagarta, LALALALA, Lana Ansvel, Lare, Lars13, len4ik, Lenora, LeroCHcka, Lesia, Ligeja, liranight, Lizaveta Lindemann, Logan, Lonely Wolf, M4k40, Machine, MAKSS, Mantis, MaryPage11, masha_0810, Master-X, max5775, Maxx53, MegaLukian, melatolin, Melkiy.77, Mertvec, Met, metalhead, Metalkid \m/, Metall Ballads, MetallOne, METALMAKS, metll, MiJaVi aKaTaVi, MiloS, milssky, MiroslavaMM, Mitry Kith, MOLe, Mooha, Morgana, Morgi, Mr*M@D, Mr.Krueger, Mr.MM-, mrGlue3, mtlwrr, myfreedom, N. o. s., N.c, Nana, NeOn, New GOD, NeyroN, Nick Smith, Nickron, Nikey, niktarkms@mail.ru, nixe, no one like u, Obscurus, One, OrlanhooR, orliand, oscar_s_o_d, otto, OVer, overdriver, pankota, Paul(DbIBa), Perezz, Polnoch, Porsche, Poznavhiy, PpsihH, PrinceOfDarkness, Psycho Loner, puh, PZG, qwertyp, R.I.N.D, RabbitRoger, raccoon999, radiominsk, RammFan, RammLady, RAMZES1232, Ramzess, Randy Jet, rastoman, Remnant217, Rich@ Kruspe, Ritchie Blackmore, RIЖIK, Rock never die., RocK SpiriT, Rock-man, Rock-n-Roll_Lady, Rockkate, Rockx, Rocky Zo, samuchka, Sandman, SantA, Sapog, Satch, Scarlett Drabber, Sciter, serega017, Seth Brook, Shagrath1313, Shalk0, shaxter12s, Shelma, Silvana666, Silver Fox, Sli548, Slon, socramento, Solidera, Space, SpiritOfWar, Sprotte, SQER, sta581120, Stalin, stas)), StratocasteR, sudo97, Sweep666, systemLINCOLN, TaNk, Thanatos, The HELLFIRE, The Terminator, Thunderstruck, Tier'ka, timy, TiTBiT, ToxaGuitar, trash, Tristis Oris, Tristitia Aeterna, Trouper, Tuomas, U S A, UnforgivableSinner, Unforgiven..., V@mpire, VaskaLad, Vi Rock, Victorius, VIC_1990_Patrol, Viktoriya, Vitamin, VladFormalin, Vohass, Volt, Vorobushek, vot_takoi_vot_nik, Waind, WarBeast, Wicca_Witch, Wicked Rocker, wiedzmin, Wladislaw, Wunder, XaReK650, Xciter, xeroprotogonis, XyLuGaHkA, yager13, YaNoT, Young_Rock, Yrsula, Yuliana•Rock, Zari_rock, ZAVOEVATEL, Ziza, ZLOY, Zloy_KraB, ZooL, ZORAN, Алекc, Алекс966, Алина Lee, Алиса, Аурика, Вайс_Людвигсдорф, варо, Варяг, Васек, ввв, Викусик, ВиталиК 92, Витус, Владимир(Нович), Владимир333, Водитель пылесоса, Волчица666, Дашутко, Джо, ДжончиК, Драу, Дух, Евгений Орел, Изабо, Йожик_с_бензопилой, Каныбек, Колдырь, Колян 89, Корди, Котофей, Ксюха<The Rasmus>, Летальный Исход., лиСКА, Люцифер, Маринад, Мелкий но умный, Меломанко, Миня, Морро, Олень, Орлица, Падший, Паша211, Пофигистка, разрязь, ренат, САДКО, Салага, Саша20, сексш, Сергей Голубев, Сократ, Тайна, Типичный металлист, Хипушка, Царь, Цэ Диамант, Черный, Чертяга, Экзарцист, \m/
Советуем:

Ария, Nirvana, SYSTEM OF A DOWN, Slipknot, КИНО, Rammstein, Король и Шут, Iron Maiden, NIGHTWISH, Linkin Park, Scorpions, AC/DC, KORN, КИПЕЛОВ, LED ZEPPELIN, Children of Bodom, DEEP PURPLE, The Offspring, АЛИСА, APOCALYPTICA, Lumen, Сплин, Slayer, Disturbed, Queen, ДДТ, Manowar, Green Day, Marilyn Manson, Bullet For My Valentine, Evanescence, LIMP BIZKIT, Megadeth, Osbourne, Ozzy, Amatory, Kiss, Guns N' Roses, IN FLAMES, NICKELBACK, PINK FLOYD, Сектор газа, Black Sabbath, Эпидемия, HIM, MOTORHEAD, Sepultura, THE BEATLES, The RASMUS, PANTERA, АГАТА КРИСТИ, Cradle Of Filth, PAPA ROACH, Red Hot Chili Peppers, Наутилус Помпилиус, Judas Priest, GUANO APES, RAGE, Гражданская оборона, ПИКНИК, СЛОТ, MUSE, STONE SOUR, SUM 41, Мастер, Alice Cooper, GODSMACK, HELLOWEEN, Tankian, Serj, The Doors, ZOMBIE, Rob, Маврин, Сергей, ПИЛОТ, ЧЕРНЫЙ КОФЕ, LACRIMOSA, Pain, Satriani, Joe, Static-X, THE ROLLING STONES, WITHIN TEMPTATION, БИ-2, Кукрыниксы, МЕЛЬНИЦА, Catharsis, DRAGONFORCE, P.O.D., Stigmata, Three Days Grace, КРЕМАТОРИЙ, МАШИНА ВРЕМЕНИ, ЧАЙФ, Aerosmith, ANIMAL ДЖАZ, Arch Enemy, Blink 182, BON JOVI, Cannibal Corpse, Dark Tranquillity, Dream Theater, LACUNA COIL, OOMPH, Oomph!, PARADISE LOST, Scars On Broadway, The 69 Eyes, TRIVIUM, Turunen, Tarja, ПУРГЕН, Accept, Alice In Chains, Behemoth, DEPECHE MODE, Dimmu Borgir, MOTLEY CRUE, Mudvayne, Sex Pistols, Soilwork, Soulfly, The Ramones, КАЛИНОВ МОСТ, Annihilator, Blind Guardian, Bloodhound Gang, Dio, FEAR FACTORY, Jane Air, LORDI, MOONSPELL, PLACEBO, Therion, Tracktor Bowling, Vai, Steve, WHITESNAKE, Anthrax, Death, Deform, Emigrate, My Chemical Romance, Rainbow, SEETHER, U.D.O., АКВАРИУМ, КОРРОЗИЯ МЕТАЛЛА, ЛЯПИС ТРУБЕЦКОЙ, AMORPHIS, AVRIL, Blur, DEF LEPPARD, Deftones, Dope, Hammerfall, IN EXTREMO, Kreator, LAMB OF GOD, MALMSTEEN, Yngwie, N.R.M., PLANT, Robert, RADIOHEAD, Sonata Arctica, The EAGLES, TRISTANIA, Ленинград, НАИВ, НОГУ СВЕЛО!, ТОЛ, ТТ-34, 5diez, 7000$, 7раса, Amon Amarth, As I Lay Dying, Avenged Sevenfold, Charon, EUROPE, FALL OUT BOY, GAMMA RAY, Grave Digger, Hendrix, Jimi, ILL NINO, IRON SAVIOR, Kingdom Come, Lavay SMITH And HER RED HOT SKILLET LICKERS, Napalm Death, Oasis, rashamba, SKID ROW, Slash, STING, Suicide Silence, Testament, The RED HOT CHILI PEPPERS, Theatre Of Tragedy, TOKIO HOTEL, TOOL, UFO, ДЕЛЬФИН, ЗВЕРИ, ЗООПАРК, ЛЮМЕН, ПРИКЛЮЧЕНИЯ ЭЛЕКТРОНИКОВ, ПСИХЕЯ, ТОРБА НА КРУЧЕ, ЦОЙ, Виктор, 5'NIZZA, 7Б, Akado, ARCTIC MONKEYS, Biohazard, COLDPLAY, Dead By Sunrise, Deathstars, DEVILDRIVER, DISTEMPER, Drowning pool, ERA, FINGER ELEVEN, FOO FIGHTERS, Forgive-me-Not, Gorillaz, Hypocrisy, I.F.K., KAMELOT, KANSAS, Killswitch Engage, KINO, Kittie, LAKE Of TEARS, Leaves' Eyes, Machine Head, Megaherz, Misfits, My Dying Bride, Nasic, Sandra, Norther, OPETH, Otto Dix, OVERKILL, PINK CREAM 69, Porcupine Tree, Prodigy, Rage Against The Machine, Roxette, ROYAL HUNT, Scar Symmetry, Soundgarden, Stratovarius, Tenacious D, THE CURE, The Exploited, THE PRODIGY, Thin Lizzy, Uriah Heep, Van Halen, VENOM, Vicious Crusade, Арда, Артерия, Башлачев, Александр, ВАСИЛИЙ К., ВЫСОЦКИЙ, Владимир, Вячеслав БУТУСОВ и музыканты группы "КИНО", КИРПИЧИ, Кошка Сашка, КРУИЗ, ЛЮБЭ, НОЧНЫЕ СНАЙПЕРЫ, Океан Ельзи, Оригами, Рондо, СЕДЬМАЯ РАСА, Смольский, Виктор, Стая, ТАРАКАНЫ!, Чиж & Co, Шнуров, Сергей, ЭЛИЗИУМ, 30 Seconds to Mars, 9 район, ADAMS, Bryan, Al Di MEOLA And Leonid AGUTIN, Animals As Leaders, Audioslave, Bauhaus, BER-LINN, BERRY, Chuck, Beseech, BLACK REBEL MOTORCYCLE CLUB, BLACKMORE'S NIGHT, Bonamassa, Joe, Boot Led Zeppelin, BOWIE, David, BRAZZAVILLE, BREGOVIC, Goran, Brutto, CARNIVAL IN COAL, CASH, Johnny, Cavalera Conspiracy, Cinderella, Clapton, Eric, Clawfinger, Cocker, Joe, Crematory, C_FILE, DANZIG, Dark Funeral, Darkthrone, Demon Hunter, DOKKEN, DORO, DOWN TO THE BONE, EverEve, FLЁUR, FOREIGNER, FORGIVE ME NOT, FRANZ FERDINAND, HARVEY, P.J., HATEBREED, HOOBASTANK, IDOL, Billy, Iggy and the Stooges, Into Eternity, INXS, Iron Fire, Katatonia, KILLERS, King Diamond, Korea, KROK, L.A. GUNS, Lennon, John, MESSIAH'S KISS, METAL CHURCH, MINISTRY, MORBID ANGEL, Nevma, NO DOUBT, Nobody.one, Nugent, Ted, Onslaught, Page, Jimmy, partyzone, Pearl Jam, PELL, Axel Rudi, PINK GREASE, Poets Of The Fall, PRESLEY, Elvis, PRETTY MAIDS, PROCOL HARUM, Queens Of The Stone Age, Rasta, RED ELVISES, Sadist, SANTANA, SATYRICON, SCISSOR SISTERS, Silent Murder, Simple Plan, Slade, SMITH, Pine Top, Smokie, SODOM, SOiL, SPARKS, TANGERINE DREAM, THE ANDREWS SISTERS, The Clash, THE CRANBERRIES, The Killers, The LEGENDARY PINK DOTS, The MARS VOLTA, The ROGERS SISTERS, THE WHO, Twisted Sister, W.A.S.P., WAITS, Tom, WILLIAMS , Robbie, ZDOB SI ZDUB, ZNICH, АЛЬФА, АНОМАЛИЯ, АРЕФЬЕВА, Ольга, Аркона, БАБКИН, Сергей, БАХЫТ-КОМПОТ, БАШНЯ ROWAN, БОНИ НЕМ, Боярский, Михаил, ВОСКРЕСЕНИЕ, ГОРОД 312, ЕГОР И ОПИЗДЕНЕВШИЕ, Женщина с Бородой, ЗВУКИ МУ, Земфира, Иванов, Александр, ИНСТРУКЦИЯ ПО ВЫЖИВАНИЮ, Йорш, КАЛУГИН, Сергей, КАРНАВАЛ и Александр БАРЫКИН, КОРОЛЬ ЛИР, Легион, Летов, Егор, ЛИАНА, ЛИНДА, МАРГУЛИС, Евгений, МОНГОЛ ШУУДАН, Мумий Тролль, Нейро Дюбель, Ногу Свело, НОЛЬ, Ольви, ПОЛКОВНИК И ОДНОПОЛЧАНЕ, ПРЕСНЯКОВ(мл), Владимир, РАДА И ТЕРНОВНИК, Северный Флот, СУКАЧЕВ, Гарик, Танцы Минус, Театр Кукол, УРФИН ДЖЮС, ЭпикриЗ