SODOM To Release 'Out Of The Frontline Trench' EP In November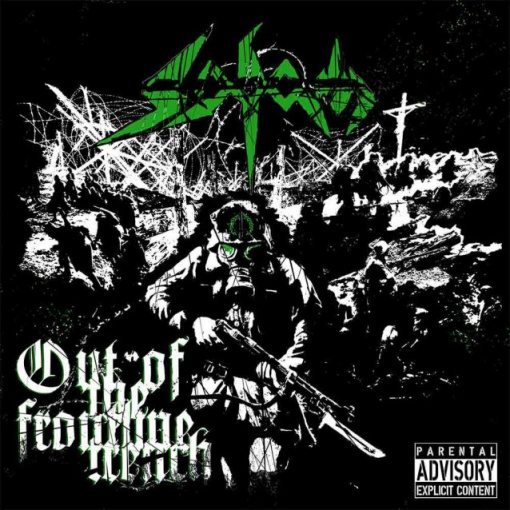 German thrash metal veterans SODOM will release a new EP, "Out Of The Frontline Trench", on November 22 via SPV/Steamhammer. The effort contains three brand new tracks as well as new recordings (studio and live) of two SODOM classics.

Track listing:

01. Genesis 19 (brand new track taken from the upcoming 2020 album)
02. Down On Your Knees (exclusive to this release)
03. Out Of The Frontline Trench (exclusive to this release)
04. Agent Orange (re-recorded with the current lineup)
05. Bombenhagel (live in Gelsenkirchen 2018)

SODOM's latest release was the "Partisan" EP, which came out last November.

Bassist/vocalist Thomas "Angelripper" Such is joined in SODOM's current lineup by guitarist Frank "Blackfire" Gosdzik (also formerly of KREATOR, ASSASSIN), drummer Stefan "Husky" H?skens (ASPHYX, DESASTER) and second guitarist Yorck Segatz (BEYONDITION). Blackfire previously played with SODOM on the seminal albums "Persecution Mania", "Mortal Way Of Live" and "Agent Orange".

Commented Such: "We're a real family again. We all really enjoy the new lineup. There's a real team spirit again; we're having a great time together, every one of us is interested in everything and — really important! — everybody is there for everybody else. Obviously that kind of atmosphere is bound to have a positive effect on the songwriting."

Former SODOM guitarist Bernd "Bernemann" Kost and drummer Markus "Makka" Freiwald released a joint statement in January 2018 claiming that they were fired from the band by Tom via messaging platform WhatsApp even before Tom had a chance to hear any of the material the duo had been working on for the group's next album.

.
Зачитано 48.
Добавил Aleks 4.09.2019//=date('j',$res['date'])?>//=$monthArray[date('m',$res['date'])]?>//=date('Y',$res['date'])?>
Комментировать.
Песни:

Скачать mp3 группы SODOM (Ace Of Spades, Agent Orange, Among The Weirdcong, Code Red, Eat Me!, Fuck The Police, Godamn And Lust, I Am The War, M-16, Marines, Minejumper, Napalm In The Morning, Remember The Fallen, The Enemy Inside, The Gan Is The Lan)