AEROSMITH Announces Summer 2020 European Tour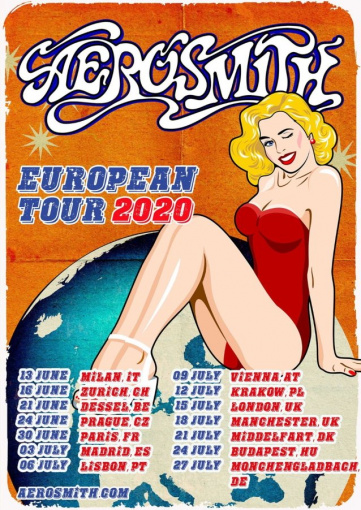 AEROSMITH will embark on a European tour next summer. The 14-date trek will kick off on June 13 at Milan, Italy's iDays festival and will conclude on July 27 at M?nchengladbach, Germany's Sparkassenpark.

Tickets will go on sale next Friday (December 13) from 9 a.m. local time through AEROSMITH's official web site.

Tour dates:

Jun. 13 - Milan, Italy @ iDays festival
Jun. 16 - Zurich, Switzerland @ Hallenstadion
Jun. 21 - Dessel, Belgium @ Graspop Metal Meeting
Jun. 24 - Prague, Czech Republic @ O2 Arena
Jun. 30 - Paris, France @ Accorhotels Arena
Jul. 03 - Madrid, Spain @ Wanda Stadium
Jul. 06 - Lisbon, Portugal @ Altice Arena
Jul. 09 - Vienna, Austria @ Stadthalle
Jul. 12 - Krakow, Poland @ Tauron Arena
Jul. 15 - London, UK @ The O2
Jul. 18 - Manchester, UK @ Arena
Jul. 21 - Middlefart, Denmark @ Rock Under Broen Pladsen
Jul. 24 - Budapest, Hungary @ Puskas Stadium
Jul. 27 - M?nchengladbach, Germany @ Sparkassenpark

AEROSMITH recently extended its "Deuces Are Wild" Las Vegas residency with 15 more dates in early 2020 due to "extraordinary demand."

The band has been playing without drummer Joey Kramer, who is recovering after twisting his ankle during rehearsal. Filling in for him is Kramer's drum tech, John Douglas.

AEROSMITH enlisted THE BEATLES archival producer Giles Martin, who co-designed the sound for Cirque Du Soleil's THE BEATLES "Love" show, to supervise its sound in Vegas.

In 2017, AEROSMITH announced a run of dates called "Aero-Vederci Baby!", but stopped short of calling it a final tour.

AEROSMITH hasn't released a new studio album since 2012's "Music From Another Dimension!"

.
Зачитано 4.
Добавил Aleks 6.12.2019//=date('j',$res['date'])?>//=$monthArray[date('m',$res['date'])]?>//=date('Y',$res['date'])?>
Комментировать.
Советуем:

Guns N' Roses, Kiss, MetallicA, Queen, LED ZEPPELIN, Nirvana, Scorpions, Black Sabbath, DEEP PURPLE, Iron Maiden, THE BEATLES, Ария, AC/DC, Alice Cooper, Osbourne, Ozzy, Rammstein, The Doors, THE ROLLING STONES, КИПЕЛОВ, Accept, Cinderella, HELLOWEEN, MOTLEY CRUE, NICKELBACK, PINK FLOYD, The EAGLES, ДДТ, BON JOVI, Dio, Disturbed, EUROPE, INXS, Judas Priest, KORN, LIMP BIZKIT, Marilyn Manson, Megadeth, MOTORHEAD, Slayer, SYSTEM OF A DOWN, The RASMUS, АГАТА КРИСТИ, АКВАРИУМ, АЛИСА, БИ-2, Король и Шут, ЛЯПИС ТРУБЕЦКОЙ, Маврин, Сергей, Сектор газа, ЧЕРНЫЙ КОФЕ, 30 Seconds to Mars, 5diez, A-HA, Anthrax, Boston, BOWIE, David, Cocker, Joe, DANZIG, Dope, DORO, Evanescence, FOREIGNER, FRANZ FERDINAND, GAMMA RAY, GODSMACK, Green Day, HIM, KANSAS, KILLERS, King Diamond, Kingdom Come, L.A. GUNS, Linkin Park, LORDI, Lumen, MALMSTEEN, Yngwie, Manowar, Mercyful Fate, Misfits, My Chemical Romance, N.R.M., NIGHTWISH, Oasis, P.O.D., Page, Jimmy, PANTERA, PAPA ROACH, PLACEBO, PLANT, Robert, PROCOL HARUM, RAGE, Rainbow, Red Hot Chili Peppers, Sepultura, Sex Pistols, SKID ROW, Slade, Slash, Slipknot, Soulfly, Soundgarden, STONE SOUR, Stratovarius, The Offspring, U.D.O., UFO, Uriah Heep, W.A.S.P., WHITESNAKE, WITHIN TEMPTATION, ZNICH, ZOMBIE, Rob, Арда, ВЫСОЦКИЙ, Владимир, ЗООПАРК, Иванов, Александр, КИНО, МАШИНА ВРЕМЕНИ, Наутилус Помпилиус, ПИКНИК, Рондо, Эпидемия