OF MICE & MEN Collaborates With KAYZO And YULTRON On 'Night Terror' Single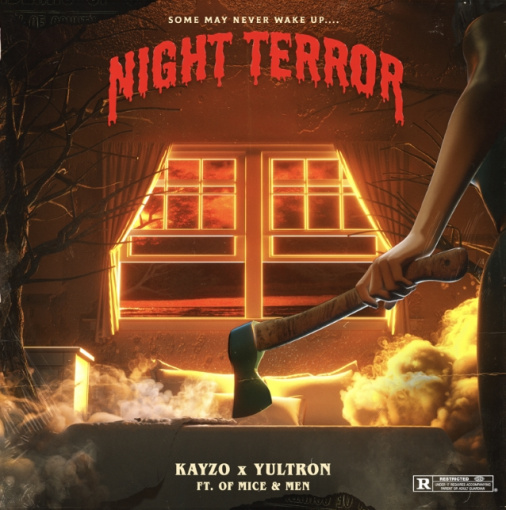 California rock band OF MICE & MEN has collaborated with Kayzo and Yultron, two prominent electronic producers from the bass front, on a new single called "Night Terror". The track was released today (June 26) on Ultra Music.

"Night Terror" is a gut-punching record that gives bass lovers their fix layered with the hard edge of heavy metal. Best friends Kayzo and Yultron — in the studio among meme wars and fan chats started work on the song, with Yultron bringing in his longtime friends OF MICE & MEN to deliver extra texture with vocals, scorching guitars and live drums enhancing the producers' unique soundscapes.

Lyrically, the track also carries heavy weight. Says OF MICE & MEN's Tino Arteaga: "'Night Terror', to me, describes the vulnerability of our minds and the overwhelming sense of terror that can sneak into our thoughts when we lay awake at night. We all know that feeling and I think this song really shows how irrepressible those feelings can become sometimes."

"Night Terror" follows previous Kayzo collaborations with Alex Gaskarth of ALL TIME LOW ("Up In Flames"), UNDEROATH ("Wasted Space"), BLESSTHEFALL ("Before The Storm") and "Alone" with New England-based post-hardcore band OUR LAST NIGHT.

OF MICE & MEN recently released two new singles, "Mushroom Cloud" and "How To Survive".

The band has been in the studio working on new material with producer Josh Wilbur.

"How To Survive" marked the first taste of new music from the Southern California quartet since last year's much-praised "Defy" album.

.
Зачитано 41.
Добавил Aleks 26.06.2019//=date('j',$res['date'])?>//=$monthArray[date('m',$res['date'])]?>//=date('Y',$res['date'])?>
Комментировать.