ANTHRAX's SCOTT IAN To Host 'Metal Workshop' At Rock Academy In Woodstock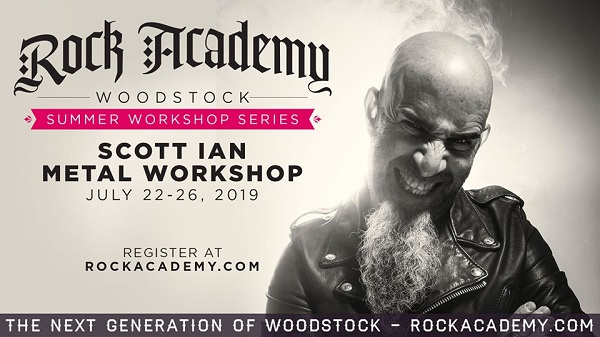 ANTHRAX guitarist Scott Ian will head up a special camp at the Rock Academy in Woodstock, New York this summer. The "Scott Ian Metal Workshop" will run from July 22 to July 26 for campers aged 12 to 18.

Ian will come to town to teach the children the finer points of heavy metal. Students will be placed into their own bands and then educated in what goes into making true metal music: from naming one's band, to writing songs, arranging the material, and the performance of said material. The camp concludes with a short performance at 2 p.m. on Friday for family and friends.

"Metal summer camp with me as your counselor," says Scott. "We're going to write songs, jam, hang out, take pics, talk a bunch of crap and have a blast! See ya soon!"

Jason Bowman took over over sole ownership of the Rock Academy (formerly Paul Green Rock Academy) last year after his former partner Paul Green moved to Philadelphia.

Ian is the co-founder and rhythm guitar player of ANTHRAX. Scott, with ANTHRAX, helped create thrash metal in the early '80s.

Green started the Paul Green Rock Academy after moving to the Woodstock area around 2013 to start a rock college, Woodstock Music Lab, with locally based rock impresario Michael Lang.

For more information, click here.

.
Зачитано 6.
Добавил Aleks 14.06.2019//=date('j',$res['date'])?>//=$monthArray[date('m',$res['date'])]?>//=date('Y',$res['date'])?>
Комментировать.