CRADLE OF FILTH Begins Recording New Album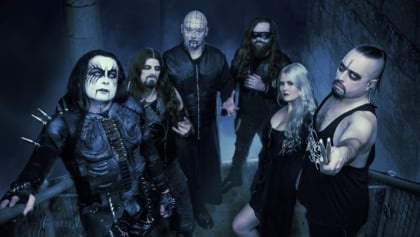 British extreme metal titans CRADLE OF FILTH have entered Grindstone Studio in Suffolk, U.K. to begin recording their new album.

On Thursday (May 25), the band shared a few photos from the studio on social media and wrote in an accompanying message: "We're on our way Filthlings! From [CRADLE drummer.
Views 2.
Author Aleks 28.05.2023//=date('j',$res['date'])?>//=$monthArray[date('m',$res['date'])]?>//=date('Y',$res['date'])?>
Add comment.
Links:

: Сборник подборов аккордов к песням под гитару!!!
URL - http://akkordbard.ru/, Страна - Россия
: В наше время на многие машины реально найти автозапчасти в интернет-магазинах
URL - http://https://turbinext.prom.ua/, Страна - Беларусь
: I am Wendell.i am marketer.i am mdoing with ARKM Commercial Finance.
URL - http://https://www.arkmcommercialfinance.com/, Страна - Беларусь
: JAVA Assignment help provides high-quality Programming Assignment Help & Java Homework Help to secure A+ Grade. Get instant Java Assignment Help Now!
URL - http://https://www.javaassignmenthelp.com/, Страна - Беларусь
: [url=https://www.brandburp.com/ppc-services]ppc services[/url] | [url=https://www.brandburp.com/digital- marketing-services]online marketing companies[/url]
URL - http://https://www.brandburp.com/international-seo-services, Страна - Беларусь
: Brisk Panda is home to the biggest & most definitive collection of stories in the world of Finance, Technology, Digital marketing, Entertainment, Travel, Health & Lifestyle!
URL - http://https://briskpanda.com/, Страна - Беларусь
: Lufthansa seat selection is one of the most popular of these salutary features. A tight grasp on this seating policy can insure trippers a perfect trip.
URL - http://https://bit.ly/3pcFZJx, Страна - Беларусь

Listening to:

<BenDeR>, AbyssMan, afeitadora, Alexandre, Alexi, Alik218, Allen20, Always Undead, anne nurme, belarusik, BenderBrau, Catameny, crofi, Damphilt, DanyFILTH, Darkes, demon_panica, den1313, Der L&#246;we, desiring_solitude, Enemia, Essence, EVGEN67, GFTM, Harmony, kenny888, lenore, Ligeja, liza_666, Lord Korvin, MAKSS, Melkiy.77, Metalkid \m/, METALLO, MiloS, Mishanya43666, MNiMA_Я, New GOD, Plague, Polnoch, ptizaza, RastaMario, Relax, ROCKandMETAL, SAD64, SataNiC, Scarlett Drabber, Serega133mhz, Shadom Gothic, Thanatos, VantyZZZz, xemopsix, акином, Алиса, Вадик SS, Вална, Драу, Жоржик, ЗЯБА, ИPI{A, КельТ, Медведъ, разрязь, Татка, тигра, Хватит Пахнуть Несквиком, Хемуль, \m/
Suggesting:

Children of Bodom, Ария, MetallicA, Slipknot, APOCALYPTICA, Marilyn Manson, NIGHTWISH, Nirvana, Rammstein, SYSTEM OF A DOWN, Iron Maiden, LACRIMOSA, Amatory, АГАТА КРИСТИ, КИНО, Король и Шут, КИПЕЛОВ, Dimmu Borgir, KORN, Linkin Park, Osbourne, Ozzy, АЛИСА, AC/DC, Evanescence, The Offspring, Arch Enemy, IN FLAMES, Megadeth, Bullet For My Valentine, Kiss, Lumen, Manowar, RAGE, Scorpions, Sepultura, WITHIN TEMPTATION, ДДТ, Сплин, Behemoth, Dark Tranquillity, Disturbed, MOONSPELL, PANTERA, Theatre Of Tragedy, БИ-2, Гражданская оборона, Кукрыниксы, Наутилус Помпилиус, Эпидемия, AVRIL, Biohazard, Cannibal Corpse, Catharsis, Dark Funeral, Deathstars, DEEP PURPLE, DRAGONFORCE, Dream Theater, FEAR FACTORY, Forgive-me-Not, Guns N' Roses, Kittie, Mudvayne, NICKELBACK, Oomph!, Pain, PARADISE LOST, PINK FLOYD, Queen, Soilwork, The 69 Eyes, КРЕМАТОРИЙ, МЕЛЬНИЦА, ПИКНИК, Сектор газа, ЧАЙФ, 5'NIZZA, 5diez, 7000$, Accept, ALTER EGO, Amon Amarth, AMORPHIS, Annihilator, Atrocity, Bauhaus, Black Sabbath, BLACKMORE'S NIGHT, Blind Guardian, Blur, BUTTERFLY TEMPLE, Charon, Creed, Deform, Dope, FOO FIGHTERS, FORGIVE ME NOT, GODSMACK, Gorgoroth, Grave Digger, Green Day, GUANO APES, Hammerfall, HELLOWEEN, HIM, Hypocrisy, IN EXTREMO, Iron Fire, IRON SAVIOR, Jane Air, Judas Priest, LACUNA COIL, LAKE Of TEARS, LAMB OF GOD, Leaves' Eyes, LED ZEPPELIN, LIMP BIZKIT, LORDI, Lostprophets, MALMSTEEN, Yngwie, MESSIAH'S KISS, Misfits, MOTORHEAD, N.R.M., Napalm Death, Norther, OOMPH, Otto Dix, PAPA ROACH, PINK CREAM 69, PINK GREASE, PLACEBO, Rage Against The Machine, Red Hot Chili Peppers, RHAPSODY, SATYRICON, SEETHER, Six Feet Under, SKID ROW, Slash, Slayer, SOFT CELL, Soulfly, Static-X, Stigmata, Suicide Silence, SUM 41, Tankian, Serj, The BERZERKER, THE CURE, The EAGLES, The LEGENDARY PINK DOTS, The Ramones, The RASMUS, Therion, Three Days Grace, TOOL, Tracktor Bowling, TRISTANIA, Turunen, Tarja, UMBRA ET IMAGO, Vai, Steve, Wolfmother, Башлачев, Александр, БАШНЯ ROWAN, Вячеслав БУТУСОВ и музыканты группы "КИНО", КАЛИНОВ МОСТ, КОРОЛЬ ЛИР, КОРРОЗИЯ МЕТАЛЛА, Кошка Сашка, Маврин, Сергей, Мастер, МАШИНА ВРЕМЕНИ, Мумий Тролль, НАИВ, НОЧНЫЕ СНАЙПЕРЫ, ПИЛОТ, ПУРГЕН, СерьГа, Театр Кукол, ТЕЛЕВИЗОР, ТОЛ, ЧЕРНЫЙ КОФЕ