SCORPIONS Guitarist MATTHIAS JABS: 'It Was A Fantastic Feeling' To Return To Live Stage After Two-Year Break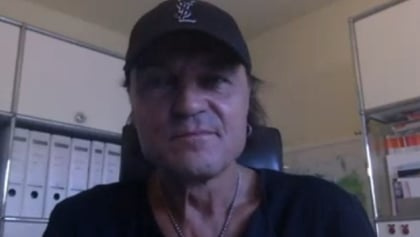 SCORPIONS guitarist Matthias Jabs spoke to Joe Rock of The Eagle 103.3 radio station about what it has been like for him and his bandmates to return to performing live after a two-year pandemic-related break.

He said (as transcribed by BLABBERMOUTH.NET): "After a two-year break due to the pandemic,.
Views 5.
Author Aleks 16.08.2022//=date('j',$res['date'])?>//=$monthArray[date('m',$res['date'])]?>//=date('Y',$res['date'])?>
Add comment.
Links:

: Сборник подборов аккордов к песням под гитару!!!
URL - http://akkordbard.ru/, Страна - Россия
: В наше время на многие машины реально найти автозапчасти в интернет-магазинах
URL - http://https://turbinext.prom.ua/, Страна - Беларусь
: I am Wendell.i am marketer.i am mdoing with ARKM Commercial Finance.
URL - http://https://www.arkmcommercialfinance.com/, Страна - Беларусь
: JAVA Assignment help provides high-quality Programming Assignment Help & Java Homework Help to secure A+ Grade. Get instant Java Assignment Help Now!
URL - http://https://www.javaassignmenthelp.com/, Страна - Беларусь
: [url=https://www.brandburp.com/ppc-services]ppc services[/url] | [url=https://www.brandburp.com/digital- marketing-services]online marketing companies[/url]
URL - http://https://www.brandburp.com/international-seo-services, Страна - Беларусь
: Brisk Panda is home to the biggest & most definitive collection of stories in the world of Finance, Technology, Digital marketing, Entertainment, Travel, Health & Lifestyle!
URL - http://https://briskpanda.com/, Страна - Беларусь
: Lufthansa seat selection is one of the most popular of these salutary features. A tight grasp on this seating policy can insure trippers a perfect trip.
URL - http://https://bit.ly/3pcFZJx, Страна - Беларусь

Listening to:

>< Raised On Rock ><, a510, Adress Unknown, Alara, Alexandre, Alive196, AnnaBizarre, Arny, Belladonna, Benn, black ice, Black Jack, blackist, Blackout, ce3am, Dafny, dami-dami, Daria C., DarkSteel, Drugban25, Ekilla2, gilmando, Grase that loves ROCK!!!, HARD_Rocker, Hitriy, Holy_Hammer, HUNTERVLAD, Ibanez, Ivanfakov, I_L_Y_A, Ka80, karolize, Keburo, KelenAmnell, KirilRamfag, Kuro, l11nad, Lasthero, len4ik, Logan, Marrry, Master-X, MiloS, MiroslavaMM, Morgi, New GOD, Nick Smith, P.S.KOLTSOV, PATRIOT, R.I.N.D, Randy Jet, Ranyar, Rock-n-Roll_Lady, Rockkate, SAD64, Satch, savshik, scarlette0317, Sciter, SCORPI, Seth Brook, ShiZZ, Silver Fox, Slayds, systemLINCOLN, The Terminator, Thunderstruck, Tier'ka, TSlav, Uncle Yuri, Viktoriya, Wladislaw, Аурика, Вита, Демон К, Изабо, Котофей, Летальный Исход., Мерик, Металюга, Пофигистка, Саша20, Скорпион, Тайна, Тема92, Типичный металлист, Хипушка, Черный
Suggesting:

MetallicA, Ария, Queen, Rammstein, Nirvana, КИНО, Король и Шут, AC/DC, Iron Maiden, LED ZEPPELIN, DEEP PURPLE, SYSTEM OF A DOWN, Linkin Park, Osbourne, Ozzy, КИПЕЛОВ, Kiss, АЛИСА, NIGHTWISH, Slipknot, Guns N' Roses, ДДТ, Manowar, NICKELBACK, THE BEATLES, The Offspring, Black Sabbath, BON JOVI, Bullet For My Valentine, Disturbed, Evanescence, Green Day, АГАТА КРИСТИ, Сектор газа, Сплин, Alice Cooper, APOCALYPTICA, HIM, KORN, Lumen, PAPA ROACH, PINK FLOYD, Наутилус Помпилиус, ПИКНИК, Accept, Aerosmith, HELLOWEEN, Judas Priest, Megadeth, THE ROLLING STONES, МАШИНА ВРЕМЕНИ, ЧЕРНЫЙ КОФЕ, Amatory, Children of Bodom, EUROPE, LIMP BIZKIT, Marilyn Manson, PANTERA, Red Hot Chili Peppers, Tankian, Serj, The RASMUS, WITHIN TEMPTATION, Эпидемия, ANIMAL ДЖАZ, Cradle Of Filth, MALMSTEEN, Yngwie, MOTORHEAD, RAGE, Slayer, The Doors, The EAGLES, ZOMBIE, Rob, БИ-2, КРЕМАТОРИЙ, ЧАЙФ, Blind Guardian, Catharsis, Dimmu Borgir, GUANO APES, IN FLAMES, MOTLEY CRUE, PLACEBO, Static-X, Stigmata, STONE SOUR, SUM 41, Turunen, Tarja, WHITESNAKE, Маврин, Сергей, Мастер, 5diez, Alice In Chains, AMORPHIS, Annihilator, Anthrax, Avenged Sevenfold, Blink 182, Bloodhound Gang, Blur, COLDPLAY, DEF LEPPARD, DEPECHE MODE, Dio, Dope, Dream Theater, Emigrate, GODSMACK, IRON SAVIOR, KANSAS, KILLERS, Killswitch Engage, LACRIMOSA, LORDI, MUSE, My Chemical Romance, Oasis, OOMPH, Pain, Prodigy, Roxette, Satriani, Joe, Scars On Broadway, Simple Plan, Sonata Arctica, STING, Stratovarius, The Ramones, Three Days Grace, АКВАРИУМ, Вячеслав БУТУСОВ и музыканты группы "КИНО", ЗВЕРИ, КАЛИНОВ МОСТ, Кукрыниксы, ЛЯПИС ТРУБЕЦКОЙ, МЕЛЬНИЦА, ПИЛОТ, ПРИКЛЮЧЕНИЯ ЭЛЕКТРОНИКОВ, Рондо, СЛОТ, ТАРАКАНЫ!, ТОРБА НА КРУЧЕ, ЦОЙ, Виктор, 7Б, 7раса, 9 район, A-HA, ADAMS, Bryan, Amon Amarth, ARCTIC MONKEYS, Audioslave, AVRIL, BERRY, Chuck, BLACKMORE'S NIGHT, Clapton, Eric, Cocker, Joe, DANZIG, Dead By Sunrise, Deathstars, Deftones, DISTEMPER, DOKKEN, DRAGONFORCE, ERA, FALL OUT BOY, FOO FIGHTERS, FOREIGNER, FORGIVE ME NOT, Forgive-me-Not, FRANZ FERDINAND, GAMMA RAY, Gorillaz, Hendrix, Jimi, HOOBASTANK, ILL NINO, INXS, Iron Fire, Kingdom Come, LACUNA COIL, LAKE Of TEARS, LAMB OF GOD, Lavay SMITH And HER RED HOT SKILLET LICKERS, MESSIAH'S KISS, Misfits, MOONSPELL, Mudvayne, My Dying Bride, N.R.M., Napalm Death, Oomph!, P.O.D., PARADISE LOST, Pearl Jam, PINK CREAM 69, PINK GREASE, PLANT, Robert, Poets Of The Fall, PRESLEY, Elvis, PROCOL HARUM, Rainbow, rashamba, ROYAL HUNT, SANTANA, Sepultura, Sex Pistols, Slash, Soulfly, Soundgarden, Staind, The 69 Eyes, THE HIVES, The LEGENDARY PINK DOTS, Theatre Of Tragedy, Theory of A Deadman, Therion, TRIVIUM, Twisted Sister, U.D.O., UFO, Uriah Heep, Vai, Steve, Van Halen, VENOM, ZNICH, АЛЬФА, Арда, Артерия, Башлачев, Александр, ВЫСОЦКИЙ, Владимир, Гражданская оборона, ДЕЛЬФИН, Земфира, ЗООПАРК, Иванов, Александр, КАРНАВАЛ и Александр БАРЫКИН, КИРПИЧИ, КОРОЛЬ ЛИР, КОРРОЗИЯ МЕТАЛЛА, КРУИЗ, Ленинград, ЛЮМЕН, МАРГУЛИС, Евгений, Ногу Свело, НОГУ СВЕЛО!, НОЧНЫЕ СНАЙПЕРЫ, ПРЕСНЯКОВ(мл), Владимир, Смольский, Виктор, СУКАЧЕВ, Гарик, Тальков, Игорь, ТЕЛЕВИЗОР, Чиж & Co, Шнуров, Сергей, ЭЛИЗИУМ, ЯНКА