DISTURBED Frontman 'Couldn't Be More Proud' Of His Bandmate For Taking On 'Cancel Culture' With New Guitar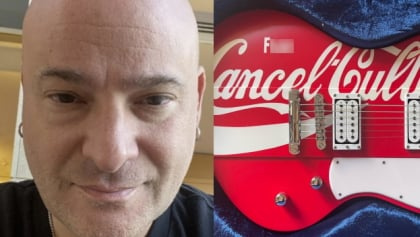 DISTURBED singer David Draiman says that he "couldn't be more proud" of his bandmate Dan Donegan for taking on "cancel culture" with his new guitar.

Earlier today (Wednesday, July 6), Donegan, who frequently shares posts on his personal Facebook page that amplify Republican talking points and t.
Views 6.
Author Aleks 7.07.2022//=date('j',$res['date'])?>//=$monthArray[date('m',$res['date'])]?>//=date('Y',$res['date'])?>
Add comment.
Links:

: Сборник подборов аккордов к песням под гитару!!!
URL - http://akkordbard.ru/, Страна - Россия
: В наше время на многие машины реально найти автозапчасти в интернет-магазинах
URL - http://https://turbinext.prom.ua/, Страна - Беларусь
: I am Wendell.i am marketer.i am mdoing with ARKM Commercial Finance.
URL - http://https://www.arkmcommercialfinance.com/, Страна - Беларусь
: JAVA Assignment help provides high-quality Programming Assignment Help & Java Homework Help to secure A+ Grade. Get instant Java Assignment Help Now!
URL - http://https://www.javaassignmenthelp.com/, Страна - Беларусь
: [url=https://www.brandburp.com/ppc-services]ppc services[/url] | [url=https://www.brandburp.com/digital- marketing-services]online marketing companies[/url]
URL - http://https://www.brandburp.com/international-seo-services, Страна - Беларусь
: Brisk Panda is home to the biggest & most definitive collection of stories in the world of Finance, Technology, Digital marketing, Entertainment, Travel, Health & Lifestyle!
URL - http://https://briskpanda.com/, Страна - Беларусь
: Lufthansa seat selection is one of the most popular of these salutary features. A tight grasp on this seating policy can insure trippers a perfect trip.
URL - http://https://bit.ly/3pcFZJx, Страна - Беларусь

Listening to:

-Victor-, //<nyazi, a510, Alive196, Barkezd, Belamor, Casper_2la, Corey Taylor, Daniel Bullet, Darius IV, Demonica, Dimedrol49, Doberm@n, DroB666, Dudeskin, Elen, ELLEN, INDESTRUCTIBLE, I_Am_Maggot, Jule, Kain, Kankuro, KelenAmnell, kortny667, ManOwaR, mar39H, masha_0810, Maverik, MeLoM@N, Metal_girl, MNiMA_Я, Murder, R.I.N.D, Ramzess, Rock-man, Rock-n-Roll_Lady, Rostok, Sapog, ShiZZ, Sin, Stasy_Ramm, TaNk, The HELLFIRE, Thunderstruck, UnforgivableSinner, Viktoriya, Volf131298, Wiktor, XaReK650, XyLuGaHkA, Yuliana•Rock, ZooL, ZORAN, Водитель пылесоса, ДжончиК, Дмитриносец, Жоржик, Марь Иванна, Татка, Типичный металлист
Suggesting:

MetallicA, SYSTEM OF A DOWN, Slipknot, KORN, Nirvana, Linkin Park, Rammstein, Bullet For My Valentine, LIMP BIZKIT, NICKELBACK, PAPA ROACH, Three Days Grace, Ария, Amatory, Green Day, APOCALYPTICA, Marilyn Manson, NIGHTWISH, Scorpions, Static-X, SUM 41, AC/DC, Lumen, Children of Bodom, Evanescence, GODSMACK, Pain, Sepultura, STONE SOUR, The Offspring, Король и Шут, DEEP PURPLE, DEPECHE MODE, Drowning pool, Iron Maiden, LED ZEPPELIN, Oomph!, PANTERA, Red Hot Chili Peppers, Arch Enemy, Cannibal Corpse, Deftones, GUANO APES, HIM, IN FLAMES, Mudvayne, MUSE, P.O.D., The RASMUS, ZOMBIE, Rob, Blur, Dark Tranquillity, Guns N' Roses, Osbourne, Ozzy, PLACEBO, Scars On Broadway, SEETHER, THE BEATLES, WITHIN TEMPTATION, БИ-2, КИНО, СЛОТ, Сплин, ANIMAL ДЖАZ, Avenged Sevenfold, Black Sabbath, Blink 182, Bloodhound Gang, Cradle Of Filth, Dope, FEAR FACTORY, Jane Air, LACUNA COIL, Manowar, My Chemical Romance, Queen, Slayer, Tankian, Serj, The 69 Eyes, Tracktor Bowling, TRIVIUM, АГАТА КРИСТИ, АЛИСА, Сектор газа, Aerosmith, Akado, AVRIL, Behemoth, BERRY, Chuck, Biohazard, Catharsis, Deathstars, DRAGONFORCE, FALL OUT BOY, FINGER ELEVEN, Gorillaz, Hypocrisy, ILL NINO, IN EXTREMO, Kiss, LACRIMOSA, LAMB OF GOD, LEGRAND, Benjamin, LORDI, MALMSTEEN, Yngwie, Megadeth, Megaherz, MOTORHEAD, Oasis, OOMPH, RAGE, Rage Against The Machine, Sex Pistols, Soulfly, Stigmata, Suicide Silence, Tenacious D, THE PRODIGY, TOKIO HOTEL, TOOL, ДЕЛЬФИН, ЛЮМЕН, НАИВ, Наутилус Помпилиус, ПИКНИК, ПИЛОТ, ПСИХЕЯ, ТАРАКАНЫ!, ТОЛ, ТТ-34, ЧЕРНЫЙ КОФЕ, Эпидемия, 5diez, 7000$, 7раса, A-HA, Accept, Alice Cooper, Amon Amarth, ARCTIC MONKEYS, As I Lay Dying, Beseech, BRIDES Of DESTRUCTION, BUTTERFLY TEMPLE, DEF LEPPARD, Deform, Demon Hunter, Dimmu Borgir, Dio, DISTEMPER, EISBRECHER, Ektomorf, Eths, FOO FIGHTERS, GAMMA RAY, Gothminister, HOOBASTANK, I.F.K., IDOL, Billy, Judas Priest, Killswitch Engage, Kittie, LAKE Of TEARS, Lavay SMITH And HER RED HOT SKILLET LICKERS, Machine Head, Mastodon, Napalm Death, PELL, Axel Rudi, PINK FLOYD, Poets Of The Fall, Prodigy, Queens Of The Stone Age, RADIOHEAD, rashamba, Rasta, Sadist, Satriani, Joe, SATYRICON, SCISSOR SISTERS, Simple Plan, Slash, SOFT CELL, Soilwork, Sonata Arctica, SPARKS, Staind, THE CURE, The Killers, The MARS VOLTA, The Ramones, The RED HOT CHILI PEPPERS, THE ROLLING STONES, Theory of A Deadman, TRISTANIA, Turunen, Tarja, U2, Аркона, БАХЫТ-КОМПОТ, Гражданская оборона, ЗВЕРИ, КИПЕЛОВ, Кошка Сашка, Ленинград, МЕЛЬНИЦА, НОЛЬ, ПРИКЛЮЧЕНИЯ ЭЛЕКТРОНИКОВ, ТЕЛЕВИЗОР, ЧАЙФ, ЭЛИЗИУМ