Watch: KISS Plays Three-Song Set At 2023 Australian Football League Grand Final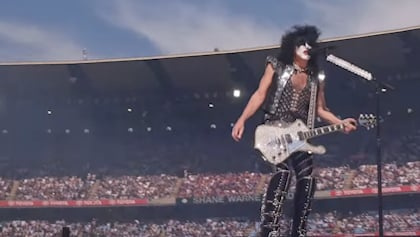 KISS performed during the Telstra pre-game entertainment at the 2023 Australian Football League (AFL) Grand Final earlier today (Saturday, September 30) in Melbourne, Australia.

The legendary rockers were a late inclusion to the AFL's biggest day being announced after CROWDED HOUSE pulled out just u.
Views 2.
Author Aleks 30.09.2023//=date('j',$res['date'])?>//=$monthArray[date('m',$res['date'])]?>//=date('Y',$res['date'])?>
Add comment.
Listening to:

3250pavel, Alexandre, AMINAZINE, Belladonna, blackist, Bon, CopperminE, Franz Mercury, FREHLEY, GFTM, GromHoll, Helene Gautier, Jawelly, Judas_Priest_fan, Kain, Lady Evil, Lagarta, Little Miss Chaos, locamp, Logan, LVV, Master-X, MiJaVi aKaTaVi, MiloS, Mr.Moustache, One, PrinceOfDarkness, Pushkin, Rock-n-Roll_Lady, Rockkate, RomanRmanss, scarlette0317, sudo97, The Terminator, Trouper, wiedzmin, Yrsula, Yura93, zela98, Вална, ВиталиК 92, Кот в Шляпе, кэри, Летальный Исход., Маринад, НаСьКа, Оркус, Пофигистка, РОК-СОЛНЫШКО, Тайна
Suggesting:

MetallicA, AC/DC, Nirvana, LED ZEPPELIN, Queen, Ария, Rammstein, DEEP PURPLE, Iron Maiden, Osbourne, Ozzy, Scorpions, Король и Шут, Guns N' Roses, NIGHTWISH, THE BEATLES, КИНО, Accept, Alice Cooper, Black Sabbath, Slipknot, THE ROLLING STONES, АЛИСА, КИПЕЛОВ, Aerosmith, PINK FLOYD, АГАТА КРИСТИ, Наутилус Помпилиус, Эпидемия, APOCALYPTICA, HELLOWEEN, Judas Priest, KORN, Marilyn Manson, SYSTEM OF A DOWN, BON JOVI, Dio, Lumen, MOTLEY CRUE, MOTORHEAD, Slayer, ДДТ, Сплин, Children of Bodom, Evanescence, HIM, Manowar, Red Hot Chili Peppers, Static-X, The Offspring, ZOMBIE, Rob, БИ-2, КОРРОЗИЯ МЕТАЛЛА, КРЕМАТОРИЙ, Сектор газа, Amatory, Cradle Of Filth, EUROPE, Linkin Park, Megadeth, NICKELBACK, RAGE, Sex Pistols, The Doors, WITHIN TEMPTATION, Кукрыниксы, МАШИНА ВРЕМЕНИ, ПИКНИК, Blind Guardian, Cinderella, Green Day, MUSE, PLACEBO, Soulfly, The EAGLES, The Ramones, TOKIO HOTEL, U.D.O., W.A.S.P., Арда, Маврин, Сергей, Мастер, МЕЛЬНИЦА, НАИВ, ТАРАКАНЫ!, 5diez, AMORPHIS, Annihilator, Bloodhound Gang, DEPECHE MODE, Dimmu Borgir, Disturbed, Dope, Dream Theater, FRANZ FERDINAND, Gorillaz, INXS, IRON SAVIOR, KANSAS, L.A. GUNS, LACRIMOSA, LACUNA COIL, LIMP BIZKIT, LORDI, MESSIAH'S KISS, P.O.D., Pain, rashamba, SEETHER, Sepultura, Sonata Arctica, Stigmata, STONE SOUR, Tankian, Serj, The RASMUS, TOOL, Turunen, Tarja, Twisted Sister, UFO, Uriah Heep, Vai, Steve, WHITESNAKE, ВЫСОЦКИЙ, Владимир, Вячеслав БУТУСОВ и музыканты группы "КИНО", Гражданская оборона, ДЕЛЬФИН, КАЛИНОВ МОСТ, КРУИЗ, Ленинград, ЛЯПИС ТРУБЕЦКОЙ, ПИЛОТ, ПУРГЕН, Рондо, СЛОТ, ЧАЙФ, ЧЕРНЫЙ КОФЕ, 7раса, 9 район, A-HA, Akado, Alice In Chains, ANIMAL ДЖАZ, Anthrax, Arch Enemy, Biohazard, Blur, BOWIE, David, Bullet For My Valentine, Cannibal Corpse, CASH, Johnny, Catharsis, Clapton, Eric, Clawfinger, Cocker, Joe, DANZIG, Dead By Sunrise, Deathstars, DEF LEPPARD, Deftones, DISTEMPER, DORO, Drowning pool, Emigrate, FEAR FACTORY, Flyleaf, FOO FIGHTERS, FOREIGNER, FORGIVE ME NOT, Forgive-me-Not, GAMMA RAY, GODSMACK, IN FLAMES, Iron Fire, Katatonia, KILLERS, King Diamond, Kingdom Come, Lennon, John, Machinae Supremacy, MALMSTEEN, Yngwie, Maximum the Hormone, McCartney, Paul, Megaherz, Mercyful Fate, Misfits, MOBY, MOONSPELL, Mudvayne, My Chemical Romance, My Dying Bride, N.R.M., Napalm Death, Oasis, OOMPH, Oomph!, Page, Jimmy, PANTERA, PARADISE LOST, PINK CREAM 69, PINK GREASE, PLANT, Robert, Porcupine Tree, PRESLEY, Elvis, PROCOL HARUM, Queens Of The Stone Age, RADIOHEAD, Rainbow, Roxette, Satriani, Joe, SAXON, Scars On Broadway, SKID ROW, Slade, Slash, Soundgarden, STING, Stratovarius, Suicide Silence, SUM 41, TANGERINE DREAM, The 69 Eyes, The CARDIGANS, The Clash, THE CURE, The Exploited, The LEGENDARY PINK DOTS, THE PRODIGY, THE WHITE STRIPES, Theatre Of Tragedy, Therion, Three Days Grace, TRAVIS, Van Halen, VENOM, ZNICH, АКВАРИУМ, АЛЬФА, Артерия, АУКЦЫОН, ВОСКРЕСЕНИЕ, ЗВЕРИ, Земфира, Иванов, Александр, КАРНАВАЛ и Александр БАРЫКИН, КИРПИЧИ, КОРОЛЬ ЛИР, МАРГУЛИС, Евгений, Мумий Тролль, Ногу Свело, НОГУ СВЕЛО!, НОЧНЫЕ СНАЙПЕРЫ, Оригами, ПРЕСНЯКОВ(мл), Владимир, РАНЕТКИ, СУКАЧЕВ, Гарик, ТОРБА НА КРУЧЕ, ТТ-34, ЦОЙ, Виктор, Шнуров, Сергей, ЭЛИЗИУМ