TOOL Announces Fall 2023 North American Tour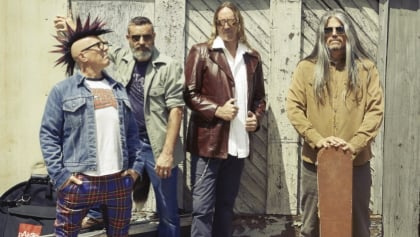 TOOL returns to the road this fall, expanding on its recently announced festival appearances (Power Trip, Aftershock and Louder Than Life) with an additional six weeks of performances, including the band's first Canadian dates since 2019.

The tour announcement follows TOOL's debut live performances.
Views 1.
Author Aleks 6.06.2023//=date('j',$res['date'])?>//=$monthArray[date('m',$res['date'])]?>//=date('Y',$res['date'])?>
Add comment.
Links:

: Сборник подборов аккордов к песням под гитару!!!
URL - http://akkordbard.ru/, Страна - Россия
: В наше время на многие машины реально найти автозапчасти в интернет-магазинах
URL - http://https://turbinext.prom.ua/, Страна - Беларусь
: I am Wendell.i am marketer.i am mdoing with ARKM Commercial Finance.
URL - http://https://www.arkmcommercialfinance.com/, Страна - Беларусь
: JAVA Assignment help provides high-quality Programming Assignment Help & Java Homework Help to secure A+ Grade. Get instant Java Assignment Help Now!
URL - http://https://www.javaassignmenthelp.com/, Страна - Беларусь
: [url=https://www.brandburp.com/ppc-services]ppc services[/url] | [url=https://www.brandburp.com/digital- marketing-services]online marketing companies[/url]
URL - http://https://www.brandburp.com/international-seo-services, Страна - Беларусь
: Brisk Panda is home to the biggest & most definitive collection of stories in the world of Finance, Technology, Digital marketing, Entertainment, Travel, Health & Lifestyle!
URL - http://https://briskpanda.com/, Страна - Беларусь
: Lufthansa seat selection is one of the most popular of these salutary features. A tight grasp on this seating policy can insure trippers a perfect trip.
URL - http://https://bit.ly/3pcFZJx, Страна - Беларусь

Suggesting:

KORN, DEEP PURPLE, IN FLAMES, MetallicA, APOCALYPTICA, Children of Bodom, Disturbed, Iron Maiden, Judas Priest, Kiss, Marilyn Manson, Nirvana, Oomph!, Osbourne, Ozzy, RADIOHEAD, Sepultura, Slayer, Slipknot, The MARS VOLTA, The Offspring, ZOMBIE, Rob, Ария, AC/DC, Accept, Alice In Chains, Army of Anyone, Audioslave, Biohazard, Bloodhound Gang, Cradle Of Filth, Dark Tranquillity, Deftones, DEPECHE MODE, DICKINSON, Bruce, Dio, Drowning pool, FEAR FACTORY, FRANZ FERDINAND, Gorillaz, HARVEY, P.J., HIM, LACUNA COIL, LED ZEPPELIN, LIMP BIZKIT, Linkin Park, MALMSTEEN, Yngwie, Megaherz, MESSIAH'S KISS, MOBY, MOONSPELL, Mudvayne, MUSE, My Dying Bride, NIGHTWISH, OPETH, Otto Dix, P.O.D., Pain, PARADISE LOST, PINK FLOYD, PLACEBO, PLANT, Robert, PORTISHEAD, Queen, Queens Of The Stone Age, RAGE, Rage Against The Machine, Rammstein, Red Hot Chili Peppers, SEETHER, Soulfly, SPARKS, Static-X, STONE SOUR, SUM 41, SYSTEM OF A DOWN, Tenacious D, TEQUILAJAZZZ, The 69 Eyes, THE BEATLES, The CARDIGANS, THE CURE, THE PRODIGY, THE WHITE STRIPES, TOKIO HOTEL, Tracktor Bowling, TRAVIS, АГАТА КРИСТИ, АУКЦЫОН, БИ-2, ДДТ, ДЕЛЬФИН, КАЛИНОВ МОСТ, КИНО, НАИВ, Наутилус Помпилиус, ПИКНИК, Сектор газа, СЛОТ, Сплин, ТТ-34