Watch Pro-Shot Video Of Original BIOHAZARD Lineup's First Performance In 12 Years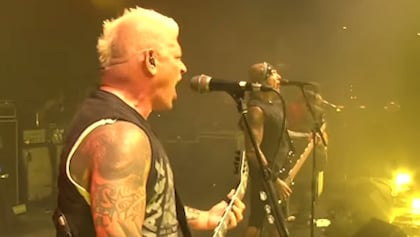 Award-winning documentary filmmaker Drew Stone of Stone Films NYC has shared professionally filmed video of the first reunion show of original lineup of BIOHAZARD — guitarist/vocalist Billy Gradziadei, guitarist Bobby Hambel, drummer Danny Schuler and bassist/vocalist Evan Seinfeld — which took plac.


Views 1.
Author Aleks 1.06.2023//=date('j',$res['date'])?>//=$monthArray[date('m',$res['date'])]?>//=date('Y',$res['date'])?>
Add comment.
Suggesting:

Children of Bodom, KORN, Sepultura, Slipknot, Arch Enemy, Cannibal Corpse, Cradle Of Filth, Disturbed, MetallicA, Rammstein, Soulfly, 7000$, Amatory, APOCALYPTICA, Bloodhound Gang, Deftones, DEPECHE MODE, Dimmu Borgir, Drowning pool, FEAR FACTORY, Gorillaz, HIM, Iron Maiden, Kiss, LACUNA COIL, LAMB OF GOD, LIMP BIZKIT, Linkin Park, Marilyn Manson, Megadeth, Megaherz, Mudvayne, Oomph!, P.O.D., Pain, PANTERA, Red Hot Chili Peppers, SATYRICON, SEETHER, SOFT CELL, Static-X, STONE SOUR, SUM 41, SYSTEM OF A DOWN, The 69 Eyes, The Offspring, THE PRODIGY, TOKIO HOTEL, TOOL, ZOMBIE, Rob, АГАТА КРИСТИ, Ария, БИ-2, ДЕЛЬФИН, КИНО, Маврин, Сергей, Мастер, Наутилус Помпилиус, ПИКНИК, Сектор газа, СЛОТ, ТТ-34