Former HIM Frontman VILLE VALO Loves The Escapism Of Books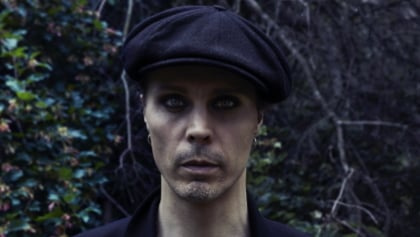 Former HIM frontman Ville Valo recently went on "Side Jams With Bryan Reesman"to talk about his love for literature.

He offered many of his book and graphic novel recommendations, including works by Mariana Enriquez, Edith S?dergran, Alan Moore, Hugo Pratt and Guy de Maupassant.
Ville talked about h.
Views 2.
Author Aleks 24.03.2023//=date('j',$res['date'])?>//=$monthArray[date('m',$res['date'])]?>//=date('Y',$res['date'])?>
Add comment.
Listening to:

666666Белка666666, alan291, Angel666, Annettdark, Barkezd, Cadavera, Catherinel, Chaika, cipa, D@RKness, Darkangel1787, Death eater, Ekilla2, Elen, Esenin89, FeNьkA, Goker, Grace, Harmony, Hedgehawok_IT, Helene Gautier, Himera97, IRS, Jawelly, John_Prison, K@tenk@, Kain, Kuro, LakeFromHorror, Leysan, Lizaveta Lindemann, Luci^fer, mamitaj, Marika69, Metal_girl, Miyavi, Natasha Eva, OVer, Palik, Praetorian, R.I.N.D, Randy Jet, Rock forever!!!, RoсkerGotessa, S.Lefy, shanon, The Soul Of Darkness, trash, Tristitia Aeterna, TSlav, Ville, Waind, Yrsula, Алекс966, Варяг, Марла Аста, Нана, Одиночество Рока, Потерявшая мечту, Путник, Тайна, Умри_Моя_Печаль, Фанатка Мэнсона..., Черный, ~Sweet Prince~
Suggesting:

Evanescence, Linkin Park, MetallicA, NIGHTWISH, Ария, Король и Шут, Slipknot, SYSTEM OF A DOWN, КИНО, Marilyn Manson, Nirvana, Rammstein, APOCALYPTICA, KORN, WITHIN TEMPTATION, Lumen, Amatory, Green Day, Bullet For My Valentine, LIMP BIZKIT, Oomph!, The 69 Eyes, The RASMUS, АГАТА КРИСТИ, КИПЕЛОВ, Iron Maiden, LACRIMOSA, PAPA ROACH, Scorpions, ДДТ, СЛОТ, PLACEBO, Queen, The Offspring, Turunen, Tarja, Disturbed, Kiss, LACUNA COIL, MUSE, NICKELBACK, Osbourne, Ozzy, Pain, Static-X, STONE SOUR, Three Days Grace, Сплин, Catharsis, Deftones, FALL OUT BOY, Guns N' Roses, My Chemical Romance, P.O.D., PARADISE LOST, Red Hot Chili Peppers, Sepultura, АЛИСА, ЧАЙФ, Эпидемия, Alice Cooper, Deathstars, ERA, LED ZEPPELIN, MALMSTEEN, Yngwie, Manowar, Megadeth, Megaherz, Mudvayne, Soulfly, SUM 41, THE BEATLES, Theatre Of Tragedy, TOKIO HOTEL, БИ-2, МЕЛЬНИЦА, ПИКНИК, Сектор газа, AC/DC, ANIMAL ДЖАZ, AVRIL, Black Sabbath, Blind Guardian, Blink 182, Bloodhound Gang, BON JOVI, Charon, Children of Bodom, DEEP PURPLE, DEPECHE MODE, Dimmu Borgir, DISTEMPER, Dope, Drowning pool, Flyleaf, FOO FIGHTERS, Gorillaz, GUANO APES, ILL NINO, IN FLAMES, King Diamond, LAKE Of TEARS, MOONSPELL, MOTLEY CRUE, MOTORHEAD, Nasic, Sandra, NEGATIVE, OOMPH, Otto Dix, RAGE, SATYRICON, SEETHER, Stigmata, The Doors, The RED HOT CHILI PEPPERS, TRISTANIA, ДЕЛЬФИН, КАЛИНОВ МОСТ, Кукрыниксы, ЛИНДА, Маврин, Сергей, Мастер, Наутилус Помпилиус, Ольви, Оригами, ПРИКЛЮЧЕНИЯ ЭЛЕКТРОНИКОВ, ТАРАКАНЫ!, ТОЛ, ЭЛИЗИУМ, Accept, Aerosmith, Akado, Amon Amarth, AMORPHIS, Arch Enemy, AVANTASIA, Avenged Sevenfold, Behemoth, Beseech, Biohazard, BLACKMORE'S NIGHT, Blur, BOWIE, David, Cannibal Corpse, CARNIVAL IN COAL, Cinderella, COLDPLAY, Cradle Of Filth, Dead By Sunrise, Deform, Dio, DORO, EDITORS, EISBRECHER, Ektomorf, Emigrate, Eths, FEAR FACTORY, GODSMACK, Gothminister, HATEBREED, HELLOWEEN, HOOBASTANK, I AM GHOST, IDOL, Billy, IN EXTREMO, INXS, IRON SAVIOR, Jane Air, Judas Priest, Killswitch Engage, Kittie, L.A. GUNS, Lavay SMITH And HER RED HOT SKILLET LICKERS, Leaves' Eyes, Machine Head, Mercyful Fate, My Dying Bride, N.R.M., Napalm Death, Page, Jimmy, PINK FLOYD, RADIOHEAD, Roxette, Satriani, Joe, Scars On Broadway, Sex Pistols, Simple Plan, SKID ROW, Soilwork, Sonata Arctica, STING, Stratovarius, Suicide Silence, Tankian, Serj, THE CRANBERRIES, The MARS VOLTA, THE PRODIGY, The Ramones, THE ROLLING STONES, Therion, TOOL, Tracktor Bowling, TRIVIUM, U.D.O., UFO, UMBRA ET IMAGO, Vai, Steve, W.A.S.P., ZOMBIE, Rob, АКВАРИУМ, АРЕФЬЕВА, Ольга, БАБКИН, Сергей, ГОРОД 312, ЗВЕРИ, КАЛУГИН, Сергей, КЕДЫ, КОРРОЗИЯ МЕТАЛЛА, ЛЮМЕН, МАШИНА ВРЕМЕНИ, ПИЛОТ, РАДА И ТЕРНОВНИК, Танцы Минус, ТТ-34, ЦОЙ, Виктор, ЧЕРНЫЙ КОФЕ