ALICE COOPER Says The Only Person Who Should Be Allowed To Use AI In Music Is PAUL MCCARTNEY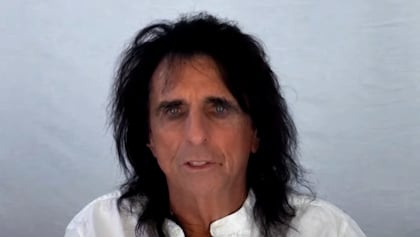 In a new interview with Australia's Studio 10, legendary rocker Alice Cooper weighed in on a debate about people using an AI (artificial intelligence) music generator as a tool to create melodies, harmonies and rhymes based on artificial intelligence (AI) algorithms and machine learning (ML) models.


Views 1.
Author Aleks 22.09.2023//=date('j',$res['date'])?>//=$monthArray[date('m',$res['date'])]?>//=date('Y',$res['date'])?>
Add comment.
Suggesting:

Iron Maiden, MetallicA, Kiss, LED ZEPPELIN, Rammstein, Nirvana, Osbourne, Ozzy, Scorpions, Guns N' Roses, Queen, THE BEATLES, Ария, КИНО, AC/DC, Black Sabbath, DEEP PURPLE, Marilyn Manson, Megadeth, MOTLEY CRUE, THE ROLLING STONES, КИПЕЛОВ, Король и Шут, Accept, Aerosmith, Judas Priest, NIGHTWISH, PINK FLOYD, WITHIN TEMPTATION, АГАТА КРИСТИ, АЛИСА, ДДТ, BON JOVI, Dio, Green Day, HELLOWEEN, HIM, Manowar, MOTORHEAD, NICKELBACK, PANTERA, Satriani, Joe, Sex Pistols, The EAGLES, The Offspring, The RASMUS, Therion, W.A.S.P., Наутилус Помпилиус, AMORPHIS, APOCALYPTICA, Blind Guardian, Bullet For My Valentine, Cinderella, DEPECHE MODE, Dimmu Borgir, FOREIGNER, INXS, Kingdom Come, KORN, L.A. GUNS, Lumen, MOONSPELL, OOMPH, PAPA ROACH, PLACEBO, Red Hot Chili Peppers, Scars On Broadway, SUM 41, SYSTEM OF A DOWN, The 69 Eyes, The Doors, Theatre Of Tragedy, Turunen, Tarja, U.D.O., Маврин, Сергей, Мастер, МАШИНА ВРЕМЕНИ, Океан Ельзи, ПИКНИК, Сплин, Эпидемия, 5'NIZZA, A-HA, Aesma Daeva, Anthrax, Arch Enemy, Avenged Sevenfold, BLACKMORE'S NIGHT, Blink 182, Blur, BOWIE, David, Cannibal Corpse, CARCASS, Cocker, Joe, Crematory, DANZIG, Dark Tranquillity, DEF LEPPARD, Disturbed, Dope, DORO, Dream Theater, Emigrate, EUROPE, Evanescence, EVERGREY, Flesh & Space, GAMMA RAY, Hammerfall, IRON SAVIOR, KANSAS, KILLERS, King Diamond, LACRIMOSA, LACUNA COIL, Leaves' Eyes, Linkin Park, MALMSTEEN, Yngwie, Mercyful Fate, MINISTRY, Misfits, MUSE, My Chemical Romance, My Dying Bride, Napalm Death, Nugent, Ted, Oasis, Page, Jimmy, Pain, PARADISE LOST, PLANT, Robert, Porcupine Tree, PROCOL HARUM, RADIOHEAD, RAGE, Rainbow, Roxette, Rush, SATYRICON, SAXON, SCISSOR SISTERS, Sepultura, Simple Plan, SKID ROW, Slash, Slayer, Slipknot, SMITH, Pine Top, Sonata Arctica, Soundgarden, STING, Stratovarius, Tankian, Serj, THE ANDREWS SISTERS, The Clash, THE CURE, THE GATHERING, The Ramones, The RED HOT CHILI PEPPERS, The ROGERS SISTERS, Three Days Grace, TRISTANIA, Twisted Sister, UFO, Uriah Heep, Vai, Steve, Van Halen, WHITESNAKE, ZOMBIE, Rob, АКВАРИУМ, Арда, БИ-2, ВЫСОЦКИЙ, Владимир, Гражданская оборона, Земфира, Иванов, Александр, КИРА Т'ФУ БЕНД, КОРРОЗИЯ МЕТАЛЛА, Кукрыниксы, Ленинград, НАСТЯ, ПУРГЕН, Рондо, Сектор газа, ЧЕРНЫЙ КОФЕ, Чиж & Co, ЯНКА