DRAGONFORCE Releases Music Video For 'The Last Dragonborn'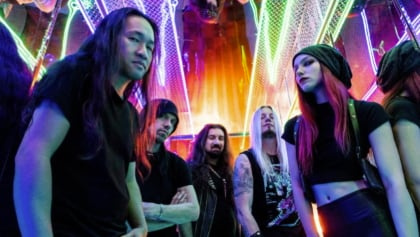 Currently on tour in Europe with POWERWOLF and WARKINGS, DRAGONFORCE has dropped a new video today for fans as a special holiday surprise.

Inspired by the Skyrim game, the epic clip for "The Last Dragonborn" can be viewed below. The track is taken from DRAGONFORCE's latest album, "Extreme Power Meta.
Views 2.
Author Aleks 29.11.2022//=date('j',$res['date'])?>//=$monthArray[date('m',$res['date'])]?>//=date('Y',$res['date'])?>
Add comment.
Links:

: Сборник подборов аккордов к песням под гитару!!!
URL - http://akkordbard.ru/, Страна - Россия
: В наше время на многие машины реально найти автозапчасти в интернет-магазинах
URL - http://https://turbinext.prom.ua/, Страна - Беларусь
: I am Wendell.i am marketer.i am mdoing with ARKM Commercial Finance.
URL - http://https://www.arkmcommercialfinance.com/, Страна - Беларусь
: JAVA Assignment help provides high-quality Programming Assignment Help & Java Homework Help to secure A+ Grade. Get instant Java Assignment Help Now!
URL - http://https://www.javaassignmenthelp.com/, Страна - Беларусь
: [url=https://www.brandburp.com/ppc-services]ppc services[/url] | [url=https://www.brandburp.com/digital- marketing-services]online marketing companies[/url]
URL - http://https://www.brandburp.com/international-seo-services, Страна - Беларусь
: Brisk Panda is home to the biggest & most definitive collection of stories in the world of Finance, Technology, Digital marketing, Entertainment, Travel, Health & Lifestyle!
URL - http://https://briskpanda.com/, Страна - Беларусь
: Lufthansa seat selection is one of the most popular of these salutary features. A tight grasp on this seating policy can insure trippers a perfect trip.
URL - http://https://bit.ly/3pcFZJx, Страна - Беларусь

Suggesting:

MetallicA, Children of Bodom, Ария, SYSTEM OF A DOWN, DEEP PURPLE, Nirvana, Slipknot, APOCALYPTICA, Dimmu Borgir, LACRIMOSA, Король и Шут, Arch Enemy, As I Lay Dying, Behemoth, Blind Guardian, Cradle Of Filth, Disturbed, Dream Theater, FEAR FACTORY, GUANO APES, Hammerfall, KORN, MUSE, NIGHTWISH, PANTERA, Rammstein, Slayer, КИНО, КИПЕЛОВ, 5diez, 7000$, 7раса, AC/DC, Akado, Amatory, ANIMAL ДЖАZ, Black Sabbath, BLACKMORE'S NIGHT, Bullet For My Valentine, Cannibal Corpse, Catharsis, Dark Tranquillity, Deform, Demon Hunter, Drowning pool, EverEve, FLЁUR, GODSMACK, Guns N' Roses, I.F.K., IN FLAMES, Iron Maiden, Jane Air, Judas Priest, Kreator, KROK, LACUNA COIL, LAMB OF GOD, Lumen, MALMSTEEN, Yngwie, Manowar, Marilyn Manson, MOONSPELL, MOTLEY CRUE, Mudvayne, Napalm Death, Nasic, Sandra, Nevma, Oomph!, P.O.D., PAPA ROACH, partyzone, PLACEBO, Prodigy, rashamba, Rasta, RHAPSODY, Sadist, SATYRICON, Scars On Broadway, Scorpions, Sepultura, Soilwork, Soulfly, Static-X, Stigmata, STONE SOUR, Stratovarius, Suicide Silence, Tankian, Serj, The 69 Eyes, THE BEATLES, THE CURE, The EAGLES, The Exploited, THE PRODIGY, THE ROLLING STONES, Theatre Of Tragedy, Tracktor Bowling, TRISTANIA, TRIVIUM, UMBRA ET IMAGO, WITHIN TEMPTATION, ZOMBIE, Rob, Башлачев, Александр, Гражданская оборона, ДДТ, Женщина с Бородой, КАЛИНОВ МОСТ, КИРПИЧИ, ЛЯПИС ТРУБЕЦКОЙ, Маврин, Сергей, Мастер, МЕЛЬНИЦА, Нейро Дюбель, ПСИХЕЯ, ПУРГЕН, Сектор газа, Сплин, ТОЛ, ТТ-34, Эпидемия, ЭпикриЗ