MISFITS Announce Limited Run Of 2023 Shows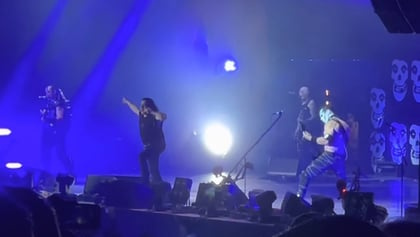 MISFITS, one of the most influential, genre-defining bands to emerge from North America, has announced a limited run of shows for 2023, kicking off on June 24 in Tampa at MIDFLORIDA Credit Union Amphitheatre with MEGADETH, hitting the group's home turf of New Jersey at the Prudential Center in Newar.


Views 2.
Author Aleks 21.03.2023//=date('j',$res['date'])?>//=$monthArray[date('m',$res['date'])]?>//=date('Y',$res['date'])?>
Add comment.
Links:

: Сборник подборов аккордов к песням под гитару!!!
URL - http://akkordbard.ru/, Страна - Россия
: В наше время на многие машины реально найти автозапчасти в интернет-магазинах
URL - http://https://turbinext.prom.ua/, Страна - Беларусь
: I am Wendell.i am marketer.i am mdoing with ARKM Commercial Finance.
URL - http://https://www.arkmcommercialfinance.com/, Страна - Беларусь
: JAVA Assignment help provides high-quality Programming Assignment Help & Java Homework Help to secure A+ Grade. Get instant Java Assignment Help Now!
URL - http://https://www.javaassignmenthelp.com/, Страна - Беларусь
: [url=https://www.brandburp.com/ppc-services]ppc services[/url] | [url=https://www.brandburp.com/digital- marketing-services]online marketing companies[/url]
URL - http://https://www.brandburp.com/international-seo-services, Страна - Беларусь
: Brisk Panda is home to the biggest & most definitive collection of stories in the world of Finance, Technology, Digital marketing, Entertainment, Travel, Health & Lifestyle!
URL - http://https://briskpanda.com/, Страна - Беларусь
: Lufthansa seat selection is one of the most popular of these salutary features. A tight grasp on this seating policy can insure trippers a perfect trip.
URL - http://https://bit.ly/3pcFZJx, Страна - Беларусь

Suggesting:

MetallicA, The Offspring, Король и Шут, Aerosmith, Alice Cooper, APOCALYPTICA, Cradle Of Filth, DANZIG, Dope, Guns N' Roses, HELLOWEEN, Iron Maiden, KILLERS, Kiss, KORN, LACRIMOSA, Lostprophets, Marilyn Manson, My Chemical Romance, Osbourne, Ozzy, RAGE, Scorpions, The 69 Eyes, The EAGLES, The Ramones, The RASMUS, ZOMBIE, Rob, АЛИСА, Арда, Ария, ДДТ, КИПЕЛОВ, МАШИНА ВРЕМЕНИ, Эпидемия