KILLSWITCH ENGAGE To Release 'Atonement' Album In August; 'Unleashed' Single Now Available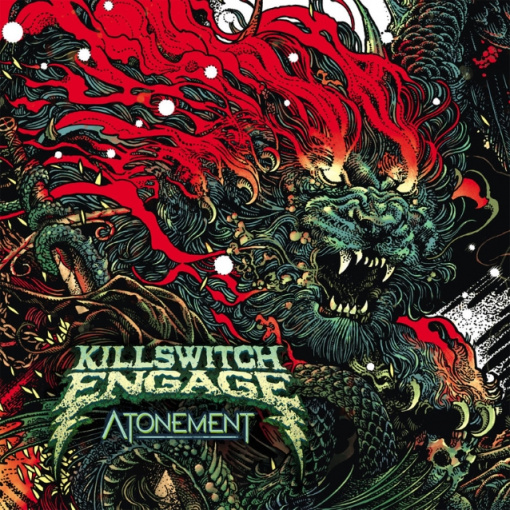 Massachusetts metallers KILLSWITCH ENGAGE will release their new album, "Atonement", on August 16 via Metal Blade Records in the U.S. and Sony Music Entertainment in the rest of the world.

The disc's first single, "Unleashed", can be streamed below.

"Atonement" features guest appearances by the band's former lead singer Howard Jones and TESTAMENT frontman Chuck Billy. It marks the band's third full-length release since the return of singer Jesse Leach, who rejoined the group in 2012.

"Atonement" track listing:

01. Unleashed
02. The Signal Fire (feat. Howard Jones)
03. Us Against The World
04. The Crownless King (feat. Chuck Billy)
05. I Am Broken Too
06. As Sure As The Sun Will Rise
07. Know Your Enemy
08. Take Control
09. Ravenous
10. I Can't Be The Only One
11. Bite The Hand That Feeds

Leach recently said that he "wouldn't change a thing" about the follow-up to 2016's "Incarnate". "At first, I was a bit crestfallen that a few songs I truly loved didn't make the cut," he wrote on Instagram. "Now after time has passed (and I've not listened to it for a while), I listened with fresh ears today. I gotta say I am quite satisfied! The messages, the tones, the track listing order, the artwork, the overall feel of this album, it just feels fresh!

"I feel there is something for everyone on this one. It captures the wide range of styles and topics that are part of our history as a band as well as pushing things just a touch. It is a pretty amazing feeling as a very picky and perpetually unsatisfied (and fairly insecure) artist to feel accomplished."

Leach appeared on KILLSWITCH's self-titled debut and sophomore album, "Alive Or Just Breathing", before exiting the band. Jones took over on vocals for "The End Of Heartache", "As Daylight Dies" and the 2009 self-titled set before being dismissed from the group seven years ago.

"Incarnate" debuted at No. 6 on the Billboard 200 with first-week sales of 35,000 equivalent album units. In terms of pure album sales, it opened with 33,000 copies.

KILLSWITCH ENGAGE's last release was the "Beyond The Flames: Home Video Part II" two-disc, Blu-ray and CD package.



.
Views 2.
Author Aleks 25.06.2019//=date('j',$res['date'])?>//=$monthArray[date('m',$res['date'])]?>//=date('Y',$res['date'])?>
Add comment.
Suggesting:

Amatory, ANIMAL ÄÆÀZ, Bullet For My Valentine, MetallicA, Rammstein, Scorpions, Slipknot, STONE SOUR, SYSTEM OF A DOWN, TRIVIUM, 7ðàñà, APOCALYPTICA, AVRIL, Blink 182, Bloodhound Gang, Catharsis, Children of Bodom, Deftones, DISTEMPER, Disturbed, Emigrate, Evanescence, Green Day, HIM, HOOBASTANK, ILL NINO, IN FLAMES, KORN, LAMB OF GOD, LIMP BIZKIT, Linkin Park, Lumen, MALMSTEEN, Yngwie, Mudvayne, MUSE, My Chemical Romance, NICKELBACK, NIGHTWISH, OOMPH, Oomph!, Pain, PAPA ROACH, RAGE, Scars On Broadway, Tankian, Serj, The Offspring, The RASMUS, WITHIN TEMPTATION, Àðèÿ, ÇÂÅÐÈ, ÊÈÏÅËÎÂ, Êîðîëü è Øóò, ÏÐÈÊËÞ×ÅÍÈß ÝËÅÊÒÐÎÍÈÊÎÂ, ÑËÎÒ, ÒÀÐÀÊÀÍÛ!, ×ÅÐÍÛÉ ÊÎÔÅ, Ýïèäåìèÿ