Watch MEGADETH Perform In Prior Lake, Minnesota During Summer/Fall 2023 Tour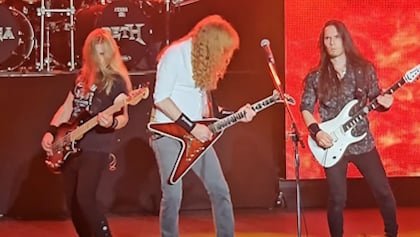 The Melvin Zoopers YouTube channel has uploaded video of MEGADETH's September 30 performance at Mystic Lake Casino in Prior Lake, Minnesota.

You can now watch the clips below.
In a recent interview with Wes Styles, MEGADETH leader Dave Mustaine spoke about the addition of new touring guitarist.
Views 2.
Author Aleks 2.10.2023//=date('j',$res['date'])?>//=$monthArray[date('m',$res['date'])]?>//=date('Y',$res['date'])?>
Add comment.
Listening to:

Belladonna, Brilliant_Dog, butterfly, D'Averk, Devilhead, DeWalt, Dima Diamond, Halberd, Heavy 6@6k@, Helene Gautier, Ian Valik, JDleSS, Jers, Lare, MaryPage11, Metalkid \m/, MiloS, MOLe, oscar_s_o_d, Polnoch, raccoon999, Randy Jet, Satch, Sprotte, VIC_1990_Patrol, Wicked Rocker, zngry, Джо, разрязь, Тайна, Татка, Типичный металлист
Suggesting:

MetallicA, Iron Maiden, LED ZEPPELIN, Nirvana, MOTORHEAD, PANTERA, Slayer, Ария, AC/DC, Guns N' Roses, Children of Bodom, Manowar, NIGHTWISH, SYSTEM OF A DOWN, DEEP PURPLE, Judas Priest, Osbourne, Ozzy, Scorpions, THE BEATLES, Король и Шут, Alice Cooper, Anthrax, Cradle Of Filth, Queen, RAGE, Rammstein, Slipknot, APOCALYPTICA, Black Sabbath, BON JOVI, Death, Kiss, KORN, MOTLEY CRUE, Sepultura, SKID ROW, КИНО, КИПЕЛОВ, Accept, Bullet For My Valentine, Dimmu Borgir, HELLOWEEN, HIM, Linkin Park, NICKELBACK, PINK FLOYD, THE ROLLING STONES, U.D.O., АГАТА КРИСТИ, АЛИСА, Гражданская оборона, Маврин, Сергей, Сплин, Aerosmith, Amon Amarth, Annihilator, BOWIE, David, Cannibal Corpse, DEF LEPPARD, Dio, Disturbed, DORO, INXS, Kreator, LIMP BIZKIT, MALMSTEEN, Yngwie, MOONSPELL, Mudvayne, PAPA ROACH, Red Hot Chili Peppers, Satriani, Joe, Sex Pistols, Slash, Testament, The Doors, The RASMUS, Therion, Vader, W.A.S.P., WHITESNAKE, WITHIN TEMPTATION, ДДТ, Мастер, Наутилус Помпилиус, Смольский, Виктор, 7000$, ADAMS, Bryan, Alice In Chains, Amatory, AMORPHIS, As I Lay Dying, Avenged Sevenfold, Behemoth, Biohazard, BLACKMORE'S NIGHT, Blind Guardian, Blink 182, Blur, BUTTERFLY TEMPLE, Catharsis, Charon, Cinderella, Cocker, Joe, Crematory, Dark Tranquillity, Darkthrone, Deftones, Dope, Dream Theater, Emigrate, EUROPE, Evanescence, FOREIGNER, GAMMA RAY, Grave Digger, Green Day, GUANO APES, Hendrix, Jimi, Hypocrisy, Iggy and the Stooges, IN FLAMES, Into Eternity, IRON SAVIOR, KANSAS, King Diamond, Kingdom Come, L.A. GUNS, LACRIMOSA, LAMB OF GOD, Lumen, Marilyn Manson, Mercyful Fate, MINISTRY, My Dying Bride, Napalm Death, OOMPH, OPETH, OVERKILL, Page, Jimmy, Pain, PARADISE LOST, PLACEBO, PLANT, Robert, PROCOL HARUM, Rage Against The Machine, Rainbow, Roxette, ROYAL HUNT, SANTANA, Scar Symmetry, SCISSOR SISTERS, Simple Plan, Smokie, Sonata Arctica, Soundgarden, STING, STONE SOUR, Stratovarius, Suicide Silence, SUM 41, THE ANDREWS SISTERS, The EAGLES, The Offspring, The Ramones, The ROGERS SISTERS, THE WHO, Theatre Of Tragedy, Thin Lizzy, TRIVIUM, Turunen, Tarja, UFO, Uriah Heep, Vai, Steve, Van Halen, БИ-2, Иванов, Александр, МАШИНА ВРЕМЕНИ, ПИКНИК, Рондо, Сектор газа, СЛОТ, ТЕЛЕВИЗОР, ЧЕРНЫЙ КОФЕ, Эпидемия