EVANESCENCE's Founding Guitarist BEN MOODY Reimagines 'Tourniquet' In Celebration Of 'Fallen' Album's 20th Anniversary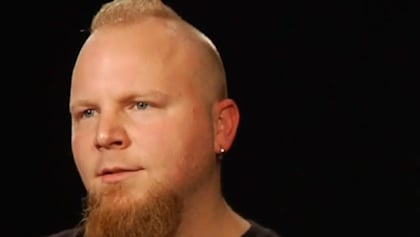 In celebration of EVANESCENCE's debut album, "Fallen", turning 20 years old, the band's founding guitarist Ben Moody has reimagined songs from the LP and is in the process of uploading the results to his YouTube channel.

Check out the second reimagined track, "Tourniquet", below.
"Fallen" was recent.
Views 5.
Author Aleks 29.05.2023//=date('j',$res['date'])?>//=$monthArray[date('m',$res['date'])]?>//=date('Y',$res['date'])?>
Add comment.
Links:

: Сборник подборов аккордов к песням под гитару!!!
URL - http://akkordbard.ru/, Страна - Россия
: В наше время на многие машины реально найти автозапчасти в интернет-магазинах
URL - http://https://turbinext.prom.ua/, Страна - Беларусь
: I am Wendell.i am marketer.i am mdoing with ARKM Commercial Finance.
URL - http://https://www.arkmcommercialfinance.com/, Страна - Беларусь
: JAVA Assignment help provides high-quality Programming Assignment Help & Java Homework Help to secure A+ Grade. Get instant Java Assignment Help Now!
URL - http://https://www.javaassignmenthelp.com/, Страна - Беларусь
: [url=https://www.brandburp.com/ppc-services]ppc services[/url] | [url=https://www.brandburp.com/digital- marketing-services]online marketing companies[/url]
URL - http://https://www.brandburp.com/international-seo-services, Страна - Беларусь
: Brisk Panda is home to the biggest & most definitive collection of stories in the world of Finance, Technology, Digital marketing, Entertainment, Travel, Health & Lifestyle!
URL - http://https://briskpanda.com/, Страна - Беларусь
: Lufthansa seat selection is one of the most popular of these salutary features. A tight grasp on this seating policy can insure trippers a perfect trip.
URL - http://https://bit.ly/3pcFZJx, Страна - Беларусь

Listening to:

*everything*, //<nyazi, 666666Белка666666, AIgERA-lyalyachi, Alexandre, Alise_Bruk, Alive196, amadex, Ancho, Ann Jackanapes, Annettdark, Barkezd, BlackRose, Cinderella, Dail*, Daisy, Dark Night, Enemia, Esenin89, Fallen_angel, Foton000, Fred_McLuger, GothicWild, Harmony, Impera, K@tenk@, KateLindemann, kompashka20092009, LenaDero, Lenora, LeroCHcka, Ligeja, LINKIN PARK, liranight, liseg, Little Miss Chaos, mar39H, margera, Merric, Metal_girl, MiroslavaMM, Miss_Murder, Miyavi, Mr.Krueger, Natasha Eva, no one like u, P2asha, Pure, R.I.N.D, Ravenna, Rawen, ReeNa, ROCKandMETAL, RockLady, S.Lefy, saruman, seamni, Sparetra, Stasya91, SvCustom, systemLINCOLN, The HELLFIRE, The Soul Of Darkness, Tokули4ka KaulitZ, Tristitia Aeterna, Wendy_ya, within temptation rulz!!!, Yrsula, Zari_rock, Алиса, Арти, Аурика, Варяг, Волчица666, Воще бессемертная, Лесная Ведьма, Нана, Одиночество Рока, Пофигистка, Раммштайновка, Сrazy lioness, Тайна, Умри_Моя_Печаль, Черный, ~Sweet Prince~
Suggesting:

Linkin Park, NIGHTWISH, MetallicA, Rammstein, Nirvana, HIM, Ария, КИНО, KORN, SYSTEM OF A DOWN, WITHIN TEMPTATION, Marilyn Manson, Slipknot, Король и Шут, APOCALYPTICA, LACRIMOSA, Lumen, СЛОТ, Green Day, NICKELBACK, Сплин, Amatory, АГАТА КРИСТИ, LACUNA COIL, LIMP BIZKIT, АЛИСА, КИПЕЛОВ, Bullet For My Valentine, Scorpions, The RASMUS, Three Days Grace, Turunen, Tarja, Oomph!, Stigmata, The 69 Eyes, ДДТ, МЕЛЬНИЦА, AC/DC, AVRIL, Disturbed, MUSE, PLACEBO, Queen, Наутилус Помпилиус, ПИКНИК, Сектор газа, ANIMAL ДЖАZ, Cradle Of Filth, My Chemical Romance, Static-X, Tankian, Serj, The Offspring, FALL OUT BOY, GUANO APES, Kiss, Osbourne, Ozzy, Otto Dix, PAPA ROACH, Red Hot Chili Peppers, STONE SOUR, SUM 41, БИ-2, Кукрыниксы, ПИЛОТ, ЧАЙФ, Catharsis, Children of Bodom, Flyleaf, OOMPH, P.O.D., PARADISE LOST, PINK FLOYD, RAGE, SEETHER, Soulfly, Theatre Of Tragedy, Tracktor Bowling, TRISTANIA, ДЕЛЬФИН, ЛЯПИС ТРУБЕЦКОЙ, ТАРАКАНЫ!, Deftones, Dimmu Borgir, EISBRECHER, ERA, IN EXTREMO, Lavay SMITH And HER RED HOT SKILLET LICKERS, Leaves' Eyes, Manowar, MOONSPELL, Nasic, Sandra, Pain, The Doors, TOKIO HOTEL, Вячеслав БУТУСОВ и музыканты группы "КИНО", КАЛИНОВ МОСТ, КРЕМАТОРИЙ, ЛЮМЕН, Маврин, Сергей, ЧЕРНЫЙ КОФЕ, Эпидемия, AMORPHIS, Behemoth, Cannibal Corpse, Charon, COLDPLAY, Deathstars, Deform, Deine Lakaien, DEPECHE MODE, Dream Theater, Emigrate, ILL NINO, IN FLAMES, Iron Maiden, IRON SAVIOR, LEGRAND, Benjamin, LORDI, Megaherz, Mudvayne, Satriani, Joe, Scars On Broadway, Sepultura, Sex Pistols, Suicide Silence, THE CURE, Therion, TRIVIUM, ZOMBIE, Rob, АКВАРИУМ, Башлачев, Александр, Вадим САМОЙЛОВ и ПОЛУОСТРОВА, ГОРОД 312, Гражданская оборона, ЗВЕРИ, Земфира, КИРПИЧИ, ЛИНДА, Мастер, МАШИНА ВРЕМЕНИ, НАИВ, НОГУ СВЕЛО!, НОЧНЫЕ СНАЙПЕРЫ, Оригами, ПРИКЛЮЧЕНИЯ ЭЛЕКТРОНИКОВ, ПСИХЕЯ, СУКАЧЕВ, Гарик, Танцы Минус, ТОЛ, ТОРБА НА КРУЧЕ, ЦОЙ, Виктор, Ю-ПИТЕР, 5'NIZZA, 5diez, 7раса, Accept, Aerosmith, Akado, Alice Cooper, Amon Amarth, Arch Enemy, AVANTASIA, Avenged Sevenfold, B.B. KING & ERIC CLAPTON, Bauhaus, BECK, BERRY, Chuck, Beseech, Blind Guardian, Blink 182, Bloodhound Gang, Blur, BON JOVI, Brutto, BUTTERFLY TEMPLE, Dark Funeral, Dark Tranquillity, Das Ich, Dead By Sunrise, DEEP PURPLE, Dio, DISTEMPER, Dope, Drowning pool, Ektomorf, Emilie Autumn, Eths, FOO FIGHTERS, FORGIVE ME NOT, Forgive-me-Not, Garbage, GODSMACK, Gorillaz, Gothminister, Guns N' Roses, Hammerfall, HELLOWEEN, HOOBASTANK, I.F.K., IDOL, Billy, Iron Fire, Jane Air, Judas Priest, Killswitch Engage, Kittie, LAKE Of TEARS, LED ZEPPELIN, Machine Head, MALMSTEEN, Yngwie, Megadeth, MESSIAH'S KISS, MOTORHEAD, My Dying Bride, N.R.M., Napalm Death, NEGATIVE, Nobody.one, PINK CREAM 69, PINK GREASE, RADIOHEAD, rashamba, SATYRICON, Seelenzorn, SHOCKING BLUE, Simple Plan, Skorbut, Sonata Arctica, Staind, THE BEATLES, THE CRANBERRIES, The LEGENDARY PINK DOTS, The MARS VOLTA, The RED HOT CHILI PEPPERS, Theory of A Deadman, АНОМАЛИЯ, АРЕФЬЕВА, Ольга, Аркона, БАБКИН, Сергей, БАШНЯ ROWAN, БОБРЫ, ГЛЕБ САМОЙЛОFF & THE MATRIXX, КАЛУГИН, Сергей, КОМА, КОРОЛЬ ЛИР, КОРРОЗИЯ МЕТАЛЛА, Кошка Сашка, КУРЕХИН, Сергей, Ленинград, МЕГАПОЛИС, Океан Ельзи, Ольви, Орлова, Алина, ПУРГЕН, РАДА И ТЕРНОВНИК, СМЫСЛОВЫЕ ГАЛЛЮЦИНАЦИИ, Театр Кукол, ТЕЛЕВИЗОР, ЭпикриЗ, ЮТА, ЯНКА