BLACK SABBATH Announces 'Heaven And Hell' And 'Mob Rules' Deluxe Editions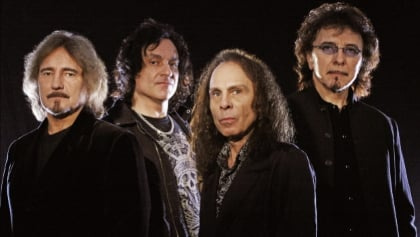 Singer Ronnie James Dio joined BLACK SABBATH in 1979 which resulted in two back-to-back classic albums: "Heaven And Hell" and "Mob Rules".

On those memorable albums, Dio's soaring tenor and gothic songwriting were the perfect foil for the band's bone-crushing mix of razor-sharp riffs, intense groove.
Views 2.
Author Aleks 4.10.2022//=date('j',$res['date'])?>//=$monthArray[date('m',$res['date'])]?>//=date('Y',$res['date'])?>
Add comment.
Listening to:

Anarchist18, Angus Young, AnnaSky, BeasT132, Belladonna, Billie Joe, Black Jack, CopperminE, Death eater, Dimedrol49, Duremar, ease_rider, Ekilla2, EyreNemo, Faland, GFTM, GromHoll, HelenaHell, HEMoy, ingvar, Ivanoff, JDleSS, karolize, Kirk Hammet, Lady Evil, Lagarta, Long_Live_RnR, Master-X, metalhead, MyShadow, Nayt, Obivan, OrlanhooR, raccoon999, Ranyar, Rock-n-Roll_Lady, Rocky=Roma, rommi, rosetta, stas)), Stormbringer_1974, The Terminator, Thunderstruck, Trouper, U S A, VIC_1990_Patrol, Мистери, сумасшедший еврей
Suggesting:

LED ZEPPELIN, DEEP PURPLE, MetallicA, Iron Maiden, Nirvana, AC/DC, Rammstein, Osbourne, Ozzy, Ария, Kiss, Judas Priest, Queen, Scorpions, THE BEATLES, PINK FLOYD, SYSTEM OF A DOWN, Guns N' Roses, KORN, Slayer, Slipknot, Король и Шут, Dio, MOTORHEAD, The Doors, THE ROLLING STONES, КИНО, Accept, Aerosmith, Alice Cooper, Наутилус Помпилиус, Green Day, Megadeth, NIGHTWISH, Red Hot Chili Peppers, The Offspring, WHITESNAKE, АГАТА КРИСТИ, КИПЕЛОВ, ПИКНИК, Сплин, Alice In Chains, Blink 182, DEPECHE MODE, Disturbed, HELLOWEEN, Lumen, MALMSTEEN, Yngwie, Marilyn Manson, MOTLEY CRUE, NICKELBACK, PANTERA, Rainbow, Sex Pistols, АЛИСА, БИ-2, Гражданская оборона, ДДТ, Эпидемия, BERRY, Chuck, BLACKMORE'S NIGHT, Blind Guardian, BON JOVI, Cannibal Corpse, Children of Bodom, Cinderella, EUROPE, FOREIGNER, GODSMACK, HIM, Kingdom Come, Linkin Park, Manowar, OOMPH, Sepultura, Soundgarden, Stratovarius, The 69 Eyes, Twisted Sister, Uriah Heep, Vai, Steve, WITHIN TEMPTATION, ZOMBIE, Rob, КРЕМАТОРИЙ, Ленинград, Рондо, Сектор газа, ЧЕРНЫЙ КОФЕ, 5diez, 9 район, Aesma Daeva, AMORPHIS, Annihilator, Anthrax, Arch Enemy, BLACK REBEL MOTORCYCLE CLUB, CARCASS, Catharsis, Clawfinger, Cocker, Joe, Cradle Of Filth, Dark Tranquillity, Death, DEF LEPPARD, Deftones, Dimmu Borgir, DRAGONFORCE, Dream Theater, FRANZ FERDINAND, GAMMA RAY, GUANO APES, Hendrix, Jimi, IN EXTREMO, IN FLAMES, INXS, IRON SAVIOR, KANSAS, Kreator, L.A. GUNS, LACUNA COIL, Leaves' Eyes, LIMP BIZKIT, LORDI, Mudvayne, N.R.M., Oasis, Oomph!, P.O.D., PAPA ROACH, PARADISE LOST, PLACEBO, PLANT, Robert, PRESLEY, Elvis, PROCOL HARUM, Prodigy, PUSHKING, Rage Against The Machine, Roxette, Rush, Satriani, Joe, SATYRICON, SAXON, Scars On Broadway, Slade, Slash, Sonata Arctica, Soulfly, Static-X, STING, STONE SOUR, SYMPHONY X, Tankian, Serj, Testament, THE CURE, The EAGLES, THE GATHERING, The Ramones, The RASMUS, The RED HOT CHILI PEPPERS, Theatre Of Tragedy, Therion, Three Days Grace, TRISTANIA, Turunen, Tarja, U.D.O., UFO, Van Halen, VENOM, W.A.S.P., ZNICH, АКВАРИУМ, АЛЬФА, ВОСКРЕСЕНИЕ, ВЫСОЦКИЙ, Владимир, Иванов, Александр, КАРНАВАЛ и Александр БАРЫКИН, КРУИЗ, Кукрыниксы, ЛЯПИС ТРУБЕЦКОЙ, Маврин, Сергей, МАРГУЛИС, Евгений, МАШИНА ВРЕМЕНИ, Ногу Свело, Океан Ельзи, ПРЕСНЯКОВ(мл), Владимир, РАНЕТКИ, СЛОТ, ФЕО, ЦОЙ, Виктор, Шнуров, Сергей