RED HOT CHILI PEPPERS Cancel Tonight's Glasgow Concert Due To Illness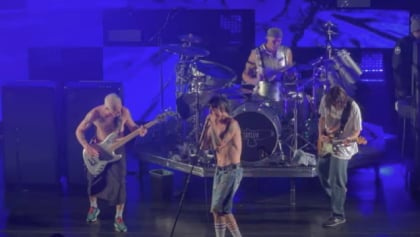 RED HOT CHILLI PEPPERS have canceled their show in Glasgow due to an unspecified "illness." The band, which consists of singer Anthony Kiedis, bassist Flea, drummer Chad Smith and guitarist John Frusciante, was set to play at Bellahouston Park on Friday (July 1) as part of its world tour.

Early Frid.
Views 11.
Author Aleks 1.07.2022//=date('j',$res['date'])?>//=$monthArray[date('m',$res['date'])]?>//=date('Y',$res['date'])?>
Add comment.
Links:

: Сборник подборов аккордов к песням под гитару!!!
URL - http://akkordbard.ru/, Страна - Россия
: В наше время на многие машины реально найти автозапчасти в интернет-магазинах
URL - http://https://turbinext.prom.ua/, Страна - Беларусь
: I am Wendell.i am marketer.i am mdoing with ARKM Commercial Finance.
URL - http://https://www.arkmcommercialfinance.com/, Страна - Беларусь
: JAVA Assignment help provides high-quality Programming Assignment Help & Java Homework Help to secure A+ Grade. Get instant Java Assignment Help Now!
URL - http://https://www.javaassignmenthelp.com/, Страна - Беларусь
: [url=https://www.brandburp.com/ppc-services]ppc services[/url] | [url=https://www.brandburp.com/digital- marketing-services]online marketing companies[/url]
URL - http://https://www.brandburp.com/international-seo-services, Страна - Беларусь
: Brisk Panda is home to the biggest & most definitive collection of stories in the world of Finance, Technology, Digital marketing, Entertainment, Travel, Health & Lifestyle!
URL - http://https://briskpanda.com/, Страна - Беларусь
: Lufthansa seat selection is one of the most popular of these salutary features. A tight grasp on this seating policy can insure trippers a perfect trip.
URL - http://https://bit.ly/3pcFZJx, Страна - Беларусь

Listening to:

Alive196, AMINAZINE, Bantik, Barkezd, bars_123, BeasT132, Billie Joe, cfylhj, chupakabra, Dead&Broken, Dedeyev, Demonica, desmunt, Ed_2108, evg-gurov, Frensis, JDleSS, Kain, KeLLi, lord_of_grey, Mantis, Master-X, MeLoM@N, Miyavi, Nickron, Perezz, Puddle Of Mood, Randy Jet, RomanRmanss, SashO_ok, Scott., serega017, Space, St.Buch, vladsid, volja90, vot_takoi_vot_nik, Wit-rock, Wladislaw, XaReK650, Пофигистка, Сrazy lioness, ягго, \m/
Suggesting:

MetallicA, Nirvana, Linkin Park, Slipknot, SYSTEM OF A DOWN, Green Day, Rammstein, The Offspring, КИНО, Bullet For My Valentine, SUM 41, Сплин, KORN, LIMP BIZKIT, MUSE, The RASMUS, Ария, Disturbed, Lumen, Marilyn Manson, NICKELBACK, Queen, Three Days Grace, Наутилус Помпилиус, APOCALYPTICA, Blink 182, Evanescence, Kiss, PAPA ROACH, Scorpions, БИ-2, ДДТ, AC/DC, Avenged Sevenfold, Black Sabbath, DEEP PURPLE, DEPECHE MODE, HIM, Iron Maiden, LED ZEPPELIN, My Chemical Romance, Static-X, THE BEATLES, Король и Шут, ПИКНИК, 5diez, Amatory, Blur, GODSMACK, Guns N' Roses, MOTORHEAD, Mudvayne, NIGHTWISH, OOMPH, Oomph!, Pain, PLACEBO, SEETHER, Slayer, STONE SOUR, АГАТА КРИСТИ, АЛИСА, Гражданская оборона, ДЕЛЬФИН, КИПЕЛОВ, Ленинград, МЕЛЬНИЦА, ПИЛОТ, Alice Cooper, ARCTIC MONKEYS, AVRIL, BERRY, Chuck, Deftones, Dope, Drowning pool, FALL OUT BOY, Gorillaz, GUANO APES, INTERPOL, Megadeth, Osbourne, Ozzy, P.O.D., PINK FLOYD, Rage Against The Machine, Scars On Broadway, Simple Plan, Soulfly, Tankian, Serj, THE CRANBERRIES, THE PRODIGY, The RED HOT CHILI PEPPERS, TRAVIS, ZOMBIE, Rob, ВЫСОЦКИЙ, Владимир, КАЛИНОВ МОСТ, Кукрыниксы, ЛЯПИС ТРУБЕЦКОЙ, Сектор газа, СЛОТ, ТАРАКАНЫ!, ТОРБА НА КРУЧЕ, ЧАЙФ, 7раса, Aerosmith, ANIMAL ДЖАZ, As I Lay Dying, Biohazard, Bloodhound Gang, BON JOVI, BOWIE, David, Catharsis, COLDPLAY, Cradle Of Filth, Dead By Sunrise, FEAR FACTORY, FOO FIGHTERS, FRANZ FERDINAND, GAMMA RAY, IN EXTREMO, Judas Priest, LACUNA COIL, LEGRAND, Benjamin, LORDI, Manowar, Megaherz, MOTLEY CRUE, N.R.M., PLANT, Robert, Porcupine Tree, Queens Of The Stone Age, RADIOHEAD, rashamba, Roxette, Satriani, Joe, Sepultura, Sex Pistols, Slash, SMITH, Pine Top, Soilwork, Staind, Stigmata, STING, Suicide Silence, Tenacious D, The 69 Eyes, The Killers, The MARS VOLTA, THE WHITE STRIPES, Theory of A Deadman, Thin Lizzy, TOKIO HOTEL, TOOL, TRIVIUM, Turunen, Tarja, WILLIAMS , Robbie, Wolfmother, ZNICH, АКВАРИУМ, БРАВО, Вячеслав БУТУСОВ и музыканты группы "КИНО", ЗВЕРИ, КИРПИЧИ, КОРРОЗИЯ МЕТАЛЛА, Кошка Сашка, КРАМА, КРЕМАТОРИЙ, Летов, Егор, ЛИНДА, ЛЮМЕН, МАШИНА ВРЕМЕНИ, НАИВ, НАСТЯ, НОГУ СВЕЛО!, Океан Ельзи, СЕКРЕТ, СУКАЧЕВ, Гарик, ТТ-34, Чиж & Co, Шнуров, Сергей, ЭЛИЗИУМ, Эпидемия