MEGADETH And GIMME RADIO Partner With RICHARD CHILDRESS RACING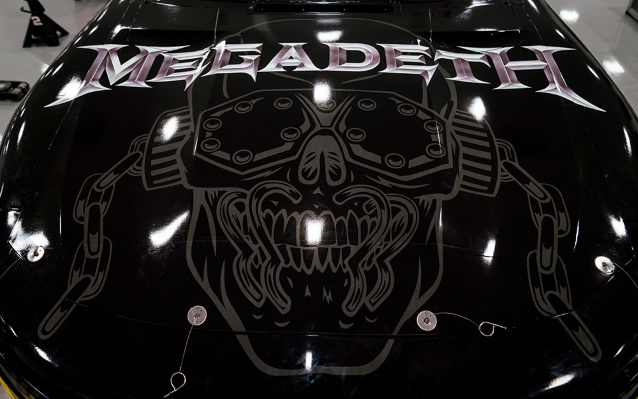 Tyler Reddick and the No. 2 team are entering New Hampshire Motor Speedway with an extra push of star power. MEGADETH, the legendary heavy metal band led by Dave Mustaine, will be featured on Reddick's No.

2 Chevrolet Camaro in association with the team's Gimme Radio partnership.

"One of the reasons I was excited to work with Gimme Radio was because of the team's dedication to serving the underserved fan, which in the metal word, was huge," says Mustaine. "The Gimme Radio community has grown into a place where friendships have been formed by metalheads all over the world. It's a really special way to connect with the fans, as I'm sure Tyler Reddick found out when he hosted his first show on Gimme Country.

"MEGADETH's been around for 35 years, and I thought we'd done it all, but being a part of the Richard Childress Racing team on their 50th anniversary is mind-blowing. MEGADETH has always been built for speed, and as a NASCAR fan, I'm beyond stoked to have the band represented on this Camaro, with Tyler behind the wheel. We wish him all the best on race day!"

Gimme Radio, the music app designed for metal fans, previously experienced success with Reddick and the No. 2 RCR team when the company's country music app, Gimme Country, served as the primary partner for the team at Daytona International Speedway.

Similar to Gimme Country's programming approach, Gimme Radio plays metal fans won't hear anywhere else, with shows curated by celebrity DJs and artists including Mustaine, LAMB OF GOD lead singer Randy Blythe, OZZY OSBOURNE bassist Rob "Blasko" Nicholson, and star of "Orange Is the New Black", Jessica Pimentel. Fans not only have the opportunity to chat with these celebrity DJs, but to other metal fans worldwide through the interactive app as well.

"It was amazing to see Tyler Reddick drive the Gimme Country car at Daytona," said Gimme Radio CEO Tyler Lenane. "And it's really cool to see how the excitement of that race spilled over to our amazing metal community. We're excited to include them this time around! We can't wait to see the reaction of NASCAR fans — and Gimme Radio fans — to this awesome MEGADETH car when it debuts in New Hampshire."

Reddick, who is coming into New Hampshire off the heels of his 12th top-five finish this season, grew up listening to MEGADETH while racing dirt late models across the country.

"We've had some really unique opportunities to showcase some legendary musicians on the No. 2 Chevrolet Camaro this season," said Reddick. "First it was Dolly Parton back at Bristol Motor Speedway, and now we have MEGADETH on the car for New Hampshire Motor Speedway thanks to Gimme Radio. I'm excited to showcase Gimme Radio's metal station after having Gimme Country on the Camaro at Daytona International Speedway earlier this month. I actually listened to a lot of metal bands growing up and racing dirt late models, so to see one of the icons of that music genre on my Camaro for a race is awesome. It's cool that during MEGADETH's 35th anniversary, they are partnering with RCR during our 50th, so I hope I can make both organizations proud this weekend."

Catch Reddick and the No. 2 Gimme Radio / Megadeth Chevrolet Camaro in the New Hampshire 200 on Saturday, July 20 at 4 p.m. ET on NBCSN.





.
Зачитано 16.
Добавил Aleks 17.07.2019//=date('j',$res['date'])?>//=$monthArray[date('m',$res['date'])]?>//=date('Y',$res['date'])?>
Комментировать.
Слушают:

Belladonna, Brilliant_Dog, butterfly, D'Averk, Devilhead, DeWalt, Dima Diamond, Halberd, Heavy 6@6k@, Helene Gautier, Ian Valik, JDleSS, Jers, Lare, MaryPage11, Metalkid \m/, MiloS, MOLe, oscar_s_o_d, Polnoch, Randy Jet, Satch, Sprotte, VIC_1990_Patrol, Wicked Rocker, zngry, Джо, разрязь, Тайна, Татка, Типичный металлист
Советуем:

MetallicA, Iron Maiden, Nirvana, LED ZEPPELIN, Ария, AC/DC, Guns N' Roses, MOTORHEAD, PANTERA, Slayer, Children of Bodom, Manowar, NIGHTWISH, SYSTEM OF A DOWN, Judas Priest, Osbourne, Ozzy, Scorpions, Король и Шут, Alice Cooper, Anthrax, Cradle Of Filth, DEEP PURPLE, Queen, RAGE, Rammstein, Slipknot, THE BEATLES, APOCALYPTICA, BON JOVI, Kiss, KORN, MOTLEY CRUE, SKID ROW, КИНО, КИПЕЛОВ, Accept, Black Sabbath, Bullet For My Valentine, Death, Dimmu Borgir, HELLOWEEN, HIM, Linkin Park, NICKELBACK, PINK FLOYD, Sepultura, THE ROLLING STONES, U.D.O., АГАТА КРИСТИ, АЛИСА, Гражданская оборона, Маврин, Сергей, Сплин, Aerosmith, Amon Amarth, Annihilator, BOWIE, David, DEF LEPPARD, Dio, Disturbed, DORO, INXS, LIMP BIZKIT, MALMSTEEN, Yngwie, MOONSPELL, Mudvayne, PAPA ROACH, Red Hot Chili Peppers, Satriani, Joe, Sex Pistols, Slash, The Doors, The RASMUS, Therion, Vader, W.A.S.P., WHITESNAKE, WITHIN TEMPTATION, ДДТ, Мастер, Наутилус Помпилиус, Смольский, Виктор, 7000$, ADAMS, Bryan, Amatory, AMORPHIS, As I Lay Dying, Avenged Sevenfold, Behemoth, Biohazard, BLACKMORE'S NIGHT, Blind Guardian, Blink 182, Blur, BUTTERFLY TEMPLE, Cannibal Corpse, Catharsis, Charon, Cinderella, Cocker, Joe, Crematory, Dark Tranquillity, Darkthrone, Dope, Dream Theater, Emigrate, EUROPE, Evanescence, FOREIGNER, GAMMA RAY, Grave Digger, Green Day, GUANO APES, Hendrix, Jimi, Hypocrisy, Iggy and the Stooges, IN FLAMES, Into Eternity, IRON SAVIOR, KANSAS, King Diamond, Kingdom Come, Kreator, L.A. GUNS, LACRIMOSA, LAMB OF GOD, Lumen, Marilyn Manson, Mercyful Fate, MINISTRY, My Dying Bride, Napalm Death, OOMPH, OPETH, OVERKILL, Page, Jimmy, Pain, PARADISE LOST, PLACEBO, PLANT, Robert, PROCOL HARUM, Rage Against The Machine, Rainbow, Roxette, ROYAL HUNT, SANTANA, Scar Symmetry, SCISSOR SISTERS, Simple Plan, Smokie, Sonata Arctica, Soundgarden, STING, STONE SOUR, Stratovarius, Suicide Silence, SUM 41, Testament, THE ANDREWS SISTERS, The EAGLES, The Offspring, The Ramones, The ROGERS SISTERS, THE WHO, Theatre Of Tragedy, Thin Lizzy, TRIVIUM, Turunen, Tarja, UFO, Uriah Heep, Vai, Steve, Van Halen, БИ-2, Иванов, Александр, МАШИНА ВРЕМЕНИ, ПИКНИК, Рондо, Сектор газа, СЛОТ, ТЕЛЕВИЗОР, ЧЕРНЫЙ КОФЕ, Эпидемия